TOKYO, Aug 27, 2011 (AFP) - Five lawmakers from Japan's ruling party on Saturday officially declared themselves candidates to succeed Prime Minister Naoto Kan as party leader and become the nation's sixth premier in five years.
Their declaration kicked off two days of campaigning that will culminate in the Democratic Party of Japan (DPJ) voting on Monday for a new leader, with trade and industry minister Banri Kaieda emerging as a strong contender.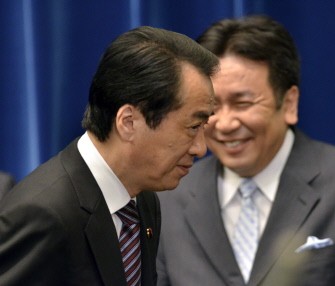 AFP- Japanese Prime Minister Naoto Kan leaves a press conference at his official residence in Tokyo on August 26, 2011, while Chief Cabinet secretary Yukio Edano (R) looks on. Kan announced his resignation as president of the Democratic Party.
Kan announced his resignation on Friday after less than 15 turbulent months in power, during which his response to the March 11 earthquake, tsunami and resulting nuclear plant accident drew fierce criticism.
Through debates and speeches over the weekend, the candidates will seek the support of the 398 DPJ lawmakers who can vote on Monday. Parliament will then elect the leader as prime minister on Tuesday.
The winner faces the daunting task of overseeing Japan's biggest post-war reconstruction, resolving the world's worst nuclear crisis since Chernobyl 25 years ago, and shielding the economy from a soaring yen.
The new premier must also unite a divided parliament, decide on a new post-Fukushima energy policy and win market confidence that Japan can overcome a legislative quagmire to address the world's biggest debt mountain.
Former foreign minister Seiji Maehara, who has topped the list of hopeful successors to Kan in opinion polls, and Finance Minister Yoshihiko Noda were largely seen as pre-election favourites.
But Kaieda, who has led efforts to contain the nuclear crisis, leapt into the front row alongside them late on Friday after party kingmaker Ichiro Ozawa, who controls the DPJ's biggest faction, voiced support for him.
Ozawa, a divisive figure who faces a criminal trial over a donations scandal, leads up to 130 lawmakers, although he has lost his party membership following his indictment over the scandal.
"We need support of Ozawa at a time of crisis," Kaieda told reporters late Friday. "I want to revive the Japanese economy as soon as possible by making use of my experience of handling the nuclear accident."
Kaieda, 62, a well-known economist before he turned to politics, also won support of former prime minister Yukio Hatoyama, a close ally of Ozawa.
Kaieda came to be at odds with Kan, who made a policy shift away from nuclear power generation while Kaieda was trying to convince local governments to restart reactors that went offline after the disaster.
Maehara, 49, who stepped down as foreign minister in March over a donations row, could become the nation's youngest post-war prime minister. He is against raising taxes to ease Japan's fiscal woes.
"I want to achieve economic growth and unleash the vigour of Japan, which will eventually lead to reconstruction from the disaster," Maehara told reporters early Saturday.
Noda, 54, who recently courted controversy with statements supporting war criminals, has softened his earlier stance on hiking taxes.
The remaining two candidates are farm minister Michihiko Kano, 69, and Sumio Mabuchi, 51, who was infrastructure and transport minister when Japan was embroiled last year in a bitter territorial island row with China.
According to an opinion poll released by the Asahi Shimbun daily on Saturday, some 40 percent of respondents named Maehara as the suitable successor to Kan followed by five percent citing Kaieda.