SRINAGAR, India, Aug 6, 2010 (AFP) - More than 40 people have been killed after heavy rain triggered flash floods in Leh, the main town in India's trans-Himalayan Ladakh region, police said Friday.
"At-least 44 people are confirmed dead and dozens are missing," a spokesman at Leh's Police Control Room told AFP by telephone.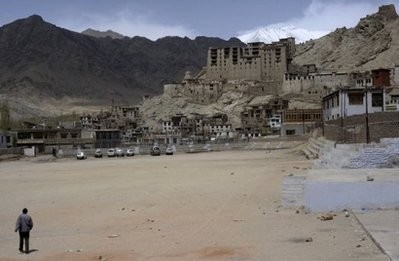 File picture shows the Polo Ground in the centre of Leh in front of Leh Palace. AFP file
Ladakh is a mountainous, Buddhist-dominated region, sitting in the southeastern part of Muslim-majority Kashmir, and is popular with foreign adventure tourists interested in high-altitude trekking and river-running.
There were no immediate reports of any tourists among the dead.
Some 3,500 metres (11,500 feet) above sea level, Leh is surrounded by high-altitude desert and heavy rainfall is very uncommon.
The police spokesman said the floods had effectively cut Leh off by road, washing away sections of the main highways to the popular backpacker destination of Manali and the Kashmiri summer capital, Srinagar.
The floods tore through parts of the town during the night, damaging houses and government buildings.
Rescue operations were still underway Friday, as the search continued for the missing, with Indian troops called in to help with the relief efforts.
Leh airport was damaged in the flooding, police said.