BANGKOK, Nov 2, 2010 (AFP) - Thailand battled Tuesday to rescue thousands of people trapped in their homes after flash floods -- several metres deep in places -- swept through a southern city, cutting power and communications.
Heavy flooding has already killed more than 100 people around the country since October 10 and with the disaster spreading there were fears of more casualties.
Rising waters began to inundate Hat Yai, a city of more than 150,000 in Songkhla province, late Monday after days of heavy downpours, affecting tens of thousands of people, possibly including foreign tourists.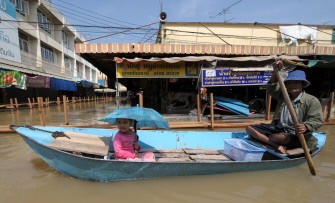 A Thai villager paddles through floodwater in Ayutthaya province, north of the Thai capital Bangkok on October 30, 2010. AFP
"I believe that thousands are trapped in their houses," Viroch Phomchai, regional director of the government's department of disaster prevention and mitigation, told AFP.
"I've tried to contact large hotels in Hat Yai city but communications are down, so I think many tourists are stranded," he said.
The area is particularly popular with people from Malaysia and Singapore.
Television pictures showed some buildings submerged almost up to their roofs in the low-lying city near the southern border.
In neighbouring Malaysia, schools were shut and more than 12,000 people evacuated in two northern states due to floods.
Earlier, Hat Yai mayor Prai Pattano had estimated that tens of thousands of people were stranded in their homes because of the flood water, which he said was three to four metres (up to 13 feet) deep in some areas.
The authorities estimate that almost six million people across Thailand have been affected by the disaster over the past three weeks, with homes submerged and farmland or cattle destroyed.
Prime Minister Abhisit Vejjajiva described the floods as "a huge natural calamity".
"There are many serious problems in the south as all types of communications as well as roads were cut off. I will focus on how to rescue stranded people," he told reporters before a planned trip to the region.
"The water level is very high and there is no sign that it will begin to recede," he said.
A hospital in the region was forced to evacuate patients on Monday after the area was hit by flash floods.
All train services to Hat Yai city were halted after two-metre-deep waters flooded the track and platform, the state-owned rail operator said in a statement.
A storm centred over Thailand's Krabi province -- an area on the Andaman coast popular with tourists -- could bring waves up to five metres high, the meteorological department warned.
Deputy Interior Minister Thaworn Senneam, who was put in charge of a relief centre in Hat Yai, pledged more aid for those affected.
"We need flat-bottom boats to help the elderly, children and sick people," he said on local television, estimating the water was almost two metres deep in the city centre.
"A lot of people are still trapped inside their houses," he said. "All communication failed after a power blackout."
Ships were advised to stay ashore during the severe weather conditions.
Power and telephone communications on the popular tourist island of Samui were reported to have been disrupted, along with ferry services.
In total at least 104 people, including three foreigners, have died in Thailand because of the disaster, which has affected dozens of provinces around the country, although the waters have receded in some areas.
Most of the victims were in central and eastern regions, with just two deaths reported so far in the south, due to electrocution.
Bangkok has been on standby but has so far avoided major flooding.
Abhisit said his government had spent almost half of its emergency budget of 47 billion baht (1.6 billion dollars) in the past few days to help flood victims across the country and would have to find more funds.