SYDNEY, June 14, 2011 (AFP) - Thousands of passengers endured a third day of delays in Australia Tuesday as a volcanic ash cloud from Chile kept planes grounded, with airlines disagreeing on whether it was safe to fly.
Qantas and Jetstar lifted a ban on flights to and from Melbourne but services by the two airlines in and out of the southern island of Tasmania, Adelaide and New Zealand were cancelled for the day.
"Qantas will continue to monitor the movement of the ash cloud and assess its impact on flight operations as the situation develops," the airline said in a statement.
"The Qantas Group's approach to flying is based on the highest standards of safety and risk assessment. Safety is always put before schedule."
Tiger Airways cancelled services between Adelaide and Melbourne and Perth and Melbourne.
While Qantas and Jetstar continue to take a conservative approach, Virgin resumed normal flights to Melbourne, Tasmania and New Zealand with its planes flying around or under the ash plume.
They are also flying in and out of Adelaide, as are international services by Singapore Airlines and Malaysia Airlines.
"We have got our own volcanic ash management team which is a team of experts in everything from engineering to navigation and a Bureau of Meteorology person in-house," Virgin spokesman Colin Lippiatt said.
"We would not be operating if we did not believe it was completely safe."
Air New Zealand's domestic and trans-Tasman flights also continue to operate to schedule.
"By adjusting cruising altitudes of our aircraft we are able to continue to safely deliver customers to their destinations," Air New Zealand said.
It added that almost all other carriers with services to New Zealand were operating, including Emirates, Singapore Airlines, Thai Airways, Cathay Pacific and Korean Air.
The eruption of the Puyehue volcano, high in the Andes, has spewed ash that has disrupted air travel on a scale not seen since the volcanic cloud over Iceland paralysed Europe in 2010.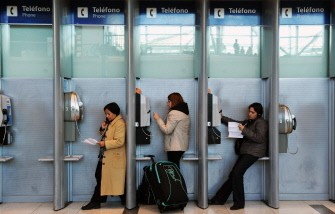 AFP - Stranded passengers talk from public phones at Ezeiza airport on June 13, 2011, after domestic and international flights in two airports in Buenos Aires, Argentina were suspended due to the remain of volcanic ashes in the region, following the eruption of volcano Puyehue in Chile
Flights across South America have been hit, with strong winds carrying the ash more than half way around the world, over the southern Atlantic and southern Indian Oceans to Australia and as far as New Zealand.
Andrew Tupper, the Australian Bureau of Meteorology's Volcanic Ash Advisory Centre head, warned the crisis was not yet over.
"I think it's fair to say there will be more disruption, so that's the bit of bad news," he told ABC radio, adding that while the ash was heading back to South America, it could return to Australia.
"It has been known to do a double lap in the past," he said, with the main plume likely to remain hanging over Adelaide for at least another day.
Peter Marosszeky, an aircraft maintenance expert and senior lecturer at the University of New South Wales' Department of Aviation, said there could be dire consequences for aircraft flying through the ash.
"The dry nature of ash, mainly pumice stone, acts as an abrasive on all exterior parts of the aircraft, ablating the finished surfaces like sandpaper," he said.
"In addition it will choke up the sensitive ports within the engines and block them.
"Volcanic ash in the air has disastrous consequences on aircraft that fly through the cloud."
Australia's Civil Aviation Safety Authority says it has no issue with airlines flying provided they avoid areas of forecast volcanic ash and any actual areas of ash.