NEW YORK, Jan 12, 2011 (AFP) - Hundreds of flights were canceled in New York's airports on Wednesday after the second major snow storm this winter pounded the northeastern United States.
Hundreds of international and internal flights were canceled and postponed in the New York and Boston airports, but delays were expected to be shorter than during the Christmas storm that paralyzed the area for nearly a week.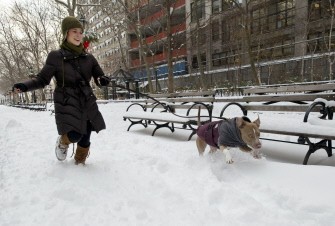 A woman runs through the snow with her dog January 12, 2011 in New York. AFP
New York City's streets nevertheless remained open as hundreds of plows were quick to respond to the storm which dumped more than eight inches (20 centimeters) of snow in the New York area.
New York Mayor Michael Bloomberg on Wednesday morning lifted a weather emergency declared late Tuesday as schools remained open and public transportation operated largely on schedule.
Bloomberg was heavily criticized after a December 26 blizzard paralyzed New York, causing major disruptions in airports and blocking the city's streets for days.
Massachusetts Governor Deval Patrick however on Wednesday declared a state of emergency after warnings that the storm could dump as much as 30 inches of snow in western Massachusetts in the coming hours.