BOTOLAN, Philippines, Aug 8, 2009 (AFP) - Rescuers struggled to evacuate hundreds of villagers caught by rampaging flash floods in the northern Philippines Saturday as the death toll rose to 20, officials said.
Police said the bodies of eight of 12 miners buried Friday by a landslide that hit a mining area in the northern city of Baguio have been recovered.
Provincial police chief Senior Superintendent Danilo Pelisco said they were still looking for six other miners.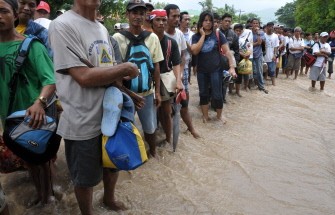 Stranded villagers queue to be transported by coast guard and navy personnel across a flooded highway in the northern Philippines Botolan district of Zambales province on August 8, 2009 (AFP photo)
Some 173,171 people in seven provinces in the northern island of Luzon have been displaced by flooding and landslides in the wake of Typhoon Morakot, which grazed the country before making landfall in Taiwan overnight, disaster relief officials said.
Among those also killed were two French tourists and a Belgian who went hiking on Mount Pinatubo volcano on Thursday despite warnings from local officials of rampaging waters on its slopes.
In the northern town of Botolan in Zambales provinces, rescuers on Saturday were battling strong currents to evacuate hundreds of residents marooned in their homes after rainwater and mud from the slopes of Pinatubo breached a dike.
A portion of the main highway leading to Botolan had been transformed into a rampaging river, and the current had swept away entire homes, trees and vehicles, an AFP photographer said.
"We are going to look for higher ground," said Joey Tiago, a member of the ethnic Aeta tribe, after he and his family managed to escape. "The water came suddenly Wednesday night, and we fled quickly toward safely with just our clothes on."
He said his home had been washed away.
On Friday, the air force said helicopters had plucked out about 300 children from submerged Botolan homes.
The government has declared Zambales under a "state of calamity" and released emergency funding to help the provincial government.
The state weather bureau said that while Morakot had now passed the Philippines, it would continue to bring rains across Luzon that could cause flash floods and landslides.