PESHAWAR, Pakistan (AFP) – Pakistan holds crisis talks Wednesday as the country braces for more storms that threaten to deepen a humanitarian disaster after the worst floods in living memory.
With over three million people hit by the flooding, Prime Minister Yousuf Raza Gilani is to chair an emergency cabinet meeting to speed up the relief work and estimate the damage -- expected to run into millions of dollars.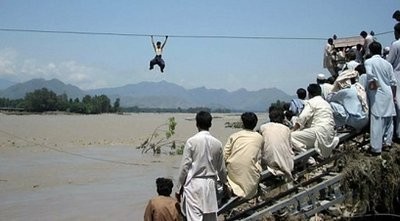 Onlookers perched on a damaged bridge watch a Pakistani flood survivor climb a rope to cross a river in Pakistan's Swat valley's Chakdara. AFP
Record rains last week triggered floods and landslides that washed away entire villages and ruined farmland in one of the country's most impoverished and volatile regions, already hard hit by Taliban and Al-Qaeda-linked violence.
The international community has mobilised with offers of aid after the flooding that has claimed the lives of up to 1,500 people and affected 3.2 million, including 1.4 million children, according to UN and Pakistani figures.
"This is a serious humanitarian disaster," the UN humanitarian coordinator for Pakistan, Martin Mogwanja, told AFP, saying that discussions were under way to determine whether the situation warranted a fresh appeal for donor aid.
Anger was at boiling point among impoverished survivors complaining they had been abandoned by the government after their livelihoods were swept away and protesting at a "joy ride" visit to Europe by President Asif Ali Zardari.
Pakistan has issued new flood warnings, threatening to compound the misery of hundreds of thousands of desperate victims. Many have been forced to flee disaster areas, their belongings piled into donkey carts and cars, or take refuge in mosques.
The United Nations said clean drinking water and sanitation were urgently needed to stop disease spreading after Pakistan's worst floods in 80 years following relentless monsoon rains.
"People immediately need food, water, shelter, health facilities, medicines and sanitation," UN World Food Programme spokesman Amjad Jamal told AFP.
Nadeem Ahmad, chairman of Pakistan's National Disaster Management Authority, estimated that roughly three million people were affected -- 1.5 million in the northwest and the same number in the central province Punjab.
Authorities in the northwestern province of Khyber Pakhtunkhwa issued an alert to people living around Warsak Dam, one of the country's biggest dams and lying outside Peshawar, as water levels rose.
Pakistan's weather bureau forecast widespread rains in the southern province of Sindh, Punjab, Pakistani-held Kashmir, the hard-hit northwest and southwestern Baluchistan over the next three days.
Flash flooding was expected in parts of Khyber Pakhtunkhwa, Punjab and Baluchistan, it warned, with heavy thunderstorms in the capital Islamabad.
The military, Pakistan's most powerful institution, said more than 54,000 people had been rescued from flood-hit areas and moved to safer places, with 40 helicopters and 450 army boats mobilised.
The United States, which has pledged 10 million dollars in aid, said it was sending in army helicopters to help with the relief effort.
Canada announced two million dollars in emergency aid while China said it was sending in 1.5 million dollars of supplies, in addition to pledges of aid from the United Nations and Britain among others.
Jamaat-ud-Dawa, a charity on a UN terror blacklist and considered a front for the group blamed by India for the 2008 Mumbai attacks, said it was helping with the relief effort, sending in 10 truck-loads of goods and nine medical teams to Khyber Pakhtunkhwa.
Survivors are living in desperate conditions under open skies or sheltering from heavy rains in mosques without clean drinking water and food.
The local government in Khyber Pakhtunkhwa has said up to 1,500 people have died as a result of the floods, although there are fears the toll could rise further.
The United Nations has also said around 980,000 people had lost their homes or been temporarily displaced.
Anger was growing among disgruntled survivors as Zardari pressed on with a visit to Europe -- including a trip to his family's stately home in the French countryside on Tuesday.
"Zardari should visit the flood-hit areas and take steps for the welfare of the stranded people instead of taking joy rides to France and the UK," said Sher Khan, 40, in Majuky Faqirabad, one of the worst affected villages.
Zardari arrives in London on Wednesday for talks with Prime Minister David Cameron this week, with a row over the British leader's comments accusing Pakistan of supporting terrorism top of the agenda.
Some British lawmakers of Pakistani origin pulled out of a planned lunch with the president amid anger that the trip was a waste of scarce money that could be better spent on flood relief.