North Korea has implemented a temporary suspension of railway transportation for its residents in the wake of its worst-ever flooding that has caused havoc in the North's railway system, U.S.-based media reported Monday, source from the Yonhap.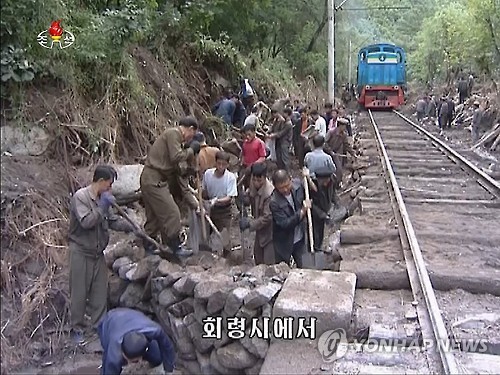 Workers from North Korea's Ministry of Railways engage in restoring a railway hit by floods in Heoryong, northeastern North Korea, in this photo taken from footage of the North's Korean Central TV Broadcasting Station on Sept. 10, 2016. (For Use Only in the Republic of Korea. No Redistribution) (Yonhap)
Citing a source in the North's Ryanggang Province, Radio Free Asia (RFA) said the Ministry of Railways has taken a measure to halt train services for its residents participating in the 8th Congress of the Union of Agricultural Workers of Korea. The source told the RFA that the use of railway services for its residents will be discontinued until next February when its power shortages are improved.
North Korea has reeled from what is being called the worst floods in its northeastern region since the country's liberation from Japan's 1910-45 colonial rule. The floods struck in September.
"The General Department of Railway has so far mobilized all the trains to restoring floods-devastated areas. The general public have found it almost impossible to use railways since the North started restoring areas hit by flooding," the source was quoted as saying.
The source also told the FRA that a train linking Pyongyang to Hyesan, the province's capital and a city bordering China, was connected with a train only four cars long, so that people wishing to take part in the congress, which opened last week in Pyongyang, could not all take the same train.
The RFA earlier said the North mobilized trains to restore floods-hit areas, and two of the six diesel locomotives brought from China have been scrapped following their encounter with accidents at floods-hit areas, leading to a snarl in train operations.