CANDABA, Philippines, Sept 30, 2011 (AFP) - Philippine authorities warned Friday that at least a million people living in flooded villages and farmland were set to be pounded by more devastating rain from a second typhoon.
Typhoon Nesat pummelled the Philippines' main island of Luzon on Tuesday, killing at least 43 people and leaving 30 others missing as it dumped the biggest single-day volume of rain on the disaster-weary country this year.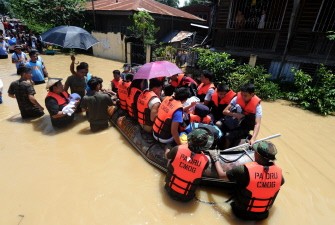 AFP - Rescue personnel from the Philippine Army rescue stranded residents in the city of Candaba, Pampanga province on September 30, 2011, after the Philippines' main island of Luzon was pummelled by Typhoon Nesat on September 27.
Large areas of Luzon remain flooded with some villages enduring water nearly two storeys high, and the government said another typhoon was expected to dump just as much rain as Nesat over the same areas this weekend.
"You must help us warn these people to move to higher ground," National Disaster Risk Reduction and Management chief Benito Ramos told AFP.
"The problem is, the floodwaters from Nesat have not ebbed. Water-soaked soil is prone to landslides and flash floods."
The second typhoon, named Nalgae, was due to hit Luzon, home to 48 million people, on Saturday night with peak winds of 130 kilometres (80 miles) an hour, the state weather service said.
Ramos said churches, schools and gymnasiums were being prepared for people to seek refuge.
About 160,000 flood victims were already in state-run evacuation camps due to Nesat, with at least one million people across Luzon affected, according to government data.
Many of those affected have remained in the flooded areas, choosing a soaked existence in their homes with the support of their families and friends over crowded, poorly equipped evacuation centres.
The Philippines is hit by an average of 20 major storms a year and those living in the flat, farming plains of Luzon are used to dealing with floods each year as torrents of waters run down from mountains to the north.
But Dondon Meneses, a 23-year-old duck egg vendor, living in Candaba, a farming town in central Luzon about two hours' drive north of Manila, said Nesat's rains had been the heaviest in his lifetime.
"We suffer from floods almost every year, but this year was the worst I can remember," Meneses told AFP as he stood in waist-deep water, as others used a rope for security while wading across the street.
Meneses said he had not been able to work for six days due to the flooded roads, and his wife and three children were down to one meal a day after their meagre savings were exhausted.
Nevertheless Meneses and other residents of Candaba said they had little choice but to remain in their flooded homes because they could not afford to go elsewhere.
The Philippines has one of the worst poverty rates in Asia, with about 24 million people -- or a quarter of the population -- living on a dollar a day or less, according to government figures.
"We won't be fleeing to another town because that costs a lot of money, which we do not have," Candaba truck driver Eddie Martin said as he rode an outrigger boat through town.
The father-of-three said he had not been paid in a week because his truck that delivers merchandise to a shopping mall could not negotiate the flooded roads, and his family was making do with steamed rice, boiled eggs and fish.
"People are apprehensive because the floodwaters have not ebbed, but we are surviving. If the new typhoon comes this way we'll just move in with neighbours living in less-flooded areas," he said.
Civil defence chief Ramos expressed frustration at people who refused to leave the danger zones, warning their lives were in danger.
"If they don't want to move, it's up to them. But we don't want them to stay and start crying when the floodwaters rise to their rooftops," he said.