Rescue workers combed through mud, rubble and debris in search of survivors from raging floods and landslides that killed at least 136 people, after a late-season hurricane devastated swaths of Central America.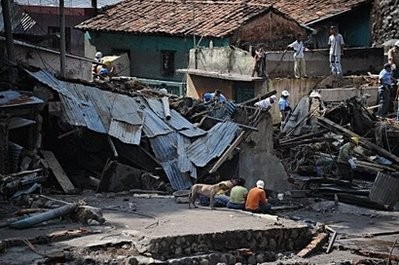 A family show their dejection while rescue team look for victims among rubble in San Vicente 80 km east of San Salvador. (AFP Photo)
Landslides and overflowing rivers swept away entire homes, while a raging torrent ripped through an large section of the town of Verapaz, where bodies -- covered in mud-caked sheets -- were stored in a local chapel, waiting to be identified.
Rescue efforts focused on eastern San Vicente department, where 72 people were still missing after three days of driving rain, 60 of them in Verapaz alone, officials said late Monday.
"The problem here in finding bodies is removing all these rocks and trees," Carlos Arce, 27, told AFP in what remained of his town of 6,800 after the storm.
"The floods took away people, houses and destroyed the crops," said Javier Martinez, a local farmer.
A civil protection official updated the death toll from the storm from 130 to 136, adding that more than 13,000 people fled their homes, some 1,800 homes were damaged or destroyed and 18 bridges and many roads were washed away by the floods.
Although Hurricane Ida did not hit the country of some seven million people directly, it brought heavy rain that affected the entire region.
President Mauricio Funes visited Verapaz, where he vowed that "this time, the government will not leave the people alone."
He has requested the national assembly to reallocate 150 million dollars from an international loan of 300 million designed for anti-crisis measures.
The National Assembly has declared a "public catastrophe and national disaster" and decreed three days of national mourning for the flood victims.
"There is no doubt that this is a town that has been severely hit by a natural disaster, but it also shows the lack of preventive measures and risk mitigation that could have been carried out years ago," said Funes.
"We must overcome the tragedy ... I know that those lives lost can hardly be replaced."
Help for the flood victims was coming from across the Americas: the United States has donated 100,000 dollars in aid, Brazil 80,000 dollars, and Guatemala has sent rescue workers to help the recovery effort.
The UN World Food Program warned that over the next few days around 10,000 people in El Salvador will need emergency food assistance.
Teams would shortly begin the challenging work in this hilly and mountainous land of evaluating the flood damage, according to Interior Minister Humberto Centeno.
Ida, now weakened to a tropical storm, was crossing the Gulf of Mexico ahead of expected landfall in Alabama in the United States early Tuesday, although tropical force winds ahead of the storm were already lashing Louisiana and Florida.
Heavy downpours have hit El Salvador since Thursday, causing mudslides and flooding. Most of the deaths have occurred in the areas of San Salvador, La Libertad, Cuscatlan, La Paz and San Vicente.
Not even the country's only zoo was spared: a stream running alongside it burst its banks, damaging some installations and killing a number of animals, National Zoo director Raul Miranda said.
Torrential rains have also hit neighboring Mexico, Honduras and Guatemala.
No victims or major damage have been reported either in Honduras or Mexico, but about 100 homes have been damaged by flooding in Guatemala, prompting the evacuation of at least 200 people there.
Ida also struck neighboring Nicaragua last week, destroying around 930 homes and leaving some 13,000 people homeless.