SAN SALVADOR, Nov 10, 2009 (AFP) - Rescue workers Tuesday tried to reach survivors of floods and landslides unleashed by late-season storms, as common graves were being dug around the country to handle the growing death toll that now stands at 152.
"Why did God take you before me," sobbed Catarino Arevalo looking down at the coffin bearing his five-year-old daughter Besy. Two other daughters are still missing after the rains hit, and his wife Ana is recovering from injuries in hospital.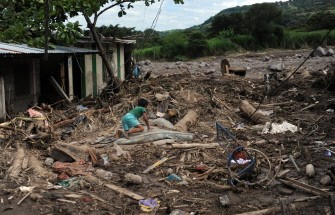 A child plays on the rubble in an area devastated by a landslide in Guadalupe, some 78 km east of the capital, on November 10, 2009 (AFP photo)
Another five unidentified bodies in black plastic bags were waiting along with Besy for burial in a common grave in Verapaz, in eastern San Vicente department -- epicenter for the crisis.
The common grave was dug in the town's only cemetery, which already houses scores of victims from a 2001 earthquake.
The mayor of San Vicente capital said 500 people were still missing on the outskirts of his city, though civil defense officials called the claim "speculation."
"We have 500 missing people, more or less, according to the information people have given us, so that is not official but that is where the information we have gathered is, more or less," Mayor Medadro Hernandez Lara told AFP.
The total number of dead rose to 152, civil protection authorities said after landslides and overflowing rivers swept away homes, while a raging torrent ripped through part of Verapaz.
Rescue efforts focused on San Vicente department, where 72 people were still missing after three days of driving rain, 60 of them in Verapaz alone, officials said.
Civil protection chief Jorge Melendez warned that "the situation remains grave. We need to open up access routes into about 37 towns that at the moment are totally covered with tonnes of earth, rocks and trees."
The number of people seeking emergency shelter dropped slightly to 12,930, a civil protection official said, while 1,800 homes were damaged or destroyed and 18 bridges and many roads were washed away by the floods.
The devastation was initially blamed on Hurricane Ida, which did not hit the country of some seven million people directly but brought heavy rain that affected the entire region.
Meteorologists on Tuesday said Ida was not solely to blame.
As Ida was slamming Nicaragua and Honduras "there was another system coming from the eastern Pacific" spreading "very heavy rains over western El Salvador," said Dennis Feltgen, a meteorologist and spokesman with the US National Hurricane Center.
"Hurricane Ida was not directly responsible for the grave situation in El Salvador," Feltgen said.
President Mauricio Funes visited Verapaz, where he vowed that "this time, the government will not leave the people alone."
He has requested the national assembly reallocate 150 million dollars from an international loan of 300 million designed for anti-crisis measures.
A child plays on the rubble in an area devastated by a landslide in Guadalupe, some 78 km east of the capital, on November 10, 2009.
The National Assembly has declared a "public catastrophe and national disaster" and decreed three days of national mourning for the flood victims.
"There is no doubt that this is a town that has been severely hit by a natural disaster, but it also shows the lack of preventive measures and risk mitigation that could have been carried out years ago," said Funes.
"We must overcome the tragedy ... I know that those lives lost simply cannot be replaced."
Rescue crews from Venezuela arrived in Verapaz Tuesday to evaluate the damage and help in the reconstruction effort, as financial and material aid poured into El Salvador from around the world.
The UN World Food Program warned that over the next few days around 10,000 people in El Salvador will need emergency food assistance.
Ida, now weakened to a tropical depression, made landfall in Alabama early Tuesday, lashing the southeastern United States from Louisiana to Florida with winds and rain.
Last week Ida struck neighboring Nicaragua, destroying around 930 homes and leaving some 13,000 people homeless.