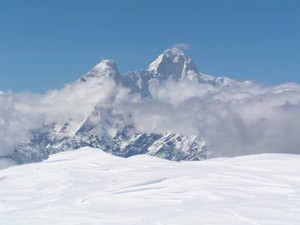 A view of Himalayas
KATHMANDU, Aug 10, 2009 (AFP) - A flying frog, the world's smallest deer and the first new monkey to be found in over a century are among 350 new species discovered in the eastern Himalayas in the past decade, the WWF said Monday.
But the environmental group said the vital habitats of the mountain range were facing growing pressures from unsustainable development in the region, which spans Nepal, China, India, Bhutan and Myanmar.
In a report released here, it said climate change, deforestation, overgrazing by domestic livestock and illegal poaching and wildlife trading threatened one of the biologically richest areas of the planet.
"In the last half-century, this area of South Asia has faced a wave of pressures as a result of population growth and the increasing demand for commodities," said the report, "The Eastern Himalayas -- Where Worlds Collide."
"Only 25 percent of the original habitats in the region remain intact. For the unique species of the Eastern Himalayas, this means that today 163 are considered globally threatened," it said.
The WWF said 353 new species were discovered in the region between 1998 and 2008, among them a red-footed tree frog known as a "flying frog" because its large webbed feet allow it to glide when falling.
Another new species was a kind of caecilian, a limbless amphibian that resembles a giant earthworm and lives underground -- a significant discovery because caecilians are among the planet's least-studied creatures.
Other highlights were the world's smallest deer -- a miniature muntjac standing just 60-80 centimetres (25-30 inches) tall that was found in northern Myanmar -- and the first new monkey species to be discovered in over a century.
The WWF said the new species of macaque was one of the highest-dwelling monkeys in the world, living in India's Arunachal Pradesh state at between 1,600 and 3,500 metres (5,000 and 11,500 feet) above sea level.
Among the 242 new plant varieties discovered was an ultramarine blue flower found by two intrepid Chinese botanists who descended into a gorge in Tibet that is twice as deep as the Grand Canyon in places.
The WWF described the rare bloom as "dramatic in both colour and form" and said its colour changed with the temperature, making it particularly remarkable.
The eastern Himalayas is home to 10,000 plant species, 300 mammal species and nearly 1,000 bird species, and is the last place on earth where the greater one-horned rhino can still be found.
"This enormous cultural and biological diversity underscores the fragile nature of an environment which risks being lost forever unless the impacts of climate change are reversed," said Tariq Aziz, leader of the WWF's Living Himalayas initiative.
The report's findings come as world leaders prepare to gather in Copenhagen in December to reach agreement on a new climate deal to replace the Kyoto Protocol.