World Bank President Robert Zoellick called Wednesday for the lifting of trade barriers that contribute to food price inflation and "hurt the poorest people."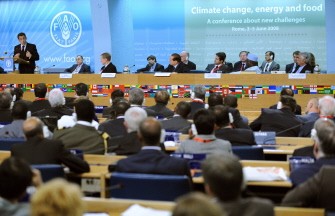 World leaders paticipate in three-day summit on food security at UN Food and Agriculture Organisation (FAO) in Rome.
"We need an international call to remove export bans and restrictions," Zoellick told a news conference at the UN Food and Agriculture Organization summit in Rome.
"These controls encourage hoarding, drive up prices and hurt the poorest people around the world who are struggling to feed themselves," he said.
"These restrictions and taxes must be lifted at the minimum for humanitarian food purchases and transportation by the WFP," he said, referring to the World Food Programme, the UN agency that delivers emergency food aid.
"They should be lifted or at least eased for shipments to less developed and fragile countries," Zoellick said, urging that "the immediate requirements of 20 of the most vulnerable countries (be met) by the time of the G8 summit in early July."
The plight of Africa, where food insecurity is the most prevalent, will be high on the agenda of the Group of Eight summit to take place in Toyako, Japan, July 7-9.
Zoellick urged "safety net support, school feeding, food for work, maternal and child programmes, conditional cash transfers and budget support" for the countries most in need.
"We need to get seeds, fertilisers and inputs to those developing countries where smallholder farmers can expand production this season," he added.