LUANDA, Jan. 9 (AFP) – Togo's football team will decide on Saturday whether to pull out of the African Nations Cup after hooded gunmen ambushed their vehicle killing the driver and leaving nine wounded, the squad's captain said.
African football officials were also due in northern Angola to review security and probe the circumstances surrounding the deadly attack.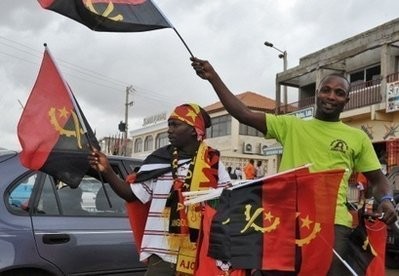 A street vendor sells Angolan flags and Angola national football team mementoes in Luanda. (AFP file)
Adebayor, the Togo team captain, said that he would convene a meeting at which the squad would discuss whether or not to stay for the tournament.
"I think a lot of players want to leave," he told BBC Radio Five Live in Britain.
"They have seen one of their team-mates have a bullet in his body, who is crying, who is losing consciousness and everything," said Adebayor, who was shown on Angolan television looking dazed and in tears shortly after the attack.
"If the security is not sure then we will be leaving tomorrow... I don't think they will be ready to give their life."
Two players were among the injured when gunmen fired at the team's vehicles after they crossed into Angola's restive Cabinda province from Congo-Brazzaville on Friday, according to a Togo official.
Organisers, who have pledged that the tournament will go ahead, said a delegation would be in Cabinda on Saturday morning while Angola's Prime Minister Paulo Kassoma was set to meet the Confederation of African Football president Issa Haytou.
The meeting would "take decisions to guarantee the smooth running of the competition," the body said Friday.
Togo squad member Thomas Dossevi said the team -- one of the strongest in African football -- had been "fired on like dogs."
"The assailants were hooded and armed to the teeth. We stayed under the seats for 20 minutes. It was horrible," he told AFP.
Two English Premiership players -- Manchester City striker Emmanuel Adebayor and Aston Villa midfielder Moustapha Salifou -- emerged unharmed from the attack, their clubs said.Related article: English clubs concerned
Angola's government denounced the attack by the separatist Front for the Liberation of the Enclave of Cabinda (FLEC), and in a statement "reiterated its total commitment to guaranteeing everyone's security."
FLEC, embroiled in a decades-long separatist struggle, said the team's military escorts were the intended target, saying one person had been killed and three seriously injured.
"This operation is only the start of a series of targeted actions that will continue in all the territory of Cabinda," it said in a statement on Portugal's Lusa news agency.
FLEC signed a peace deal with Angola's government in 2006, but in recent months has claimed a spate of attacks on the military and foreign oil and construction workers in the province, which is physically separated from the rest of the country by a strip of the Democratic Republic of Congo.
"Our great concern is for the players, but the championship goes ahead," said Souleymane Habuba, spokesman for the Confederation of African Football.
He said the group's vice president had set off for Cabinda to find out first hand what had occurred, but questioned why Togo had elected to travel by road.
"CAF's regulations are clear: teams are required to fly rather than travel by bus," he said.
A member of the local organising committee, Virgilio Santos, said all teams were requested to provide their travel plans.
"Togo was the only team that did not respond and did not notify (us) they were coming by road," he told AFP.
Togo, one of Africa's top sides and who appeared in the last World Cup in Germany, were scheduled to start their campaign against Ghana on Monday in Cabinda.
Despite long-running security concerns, oil-rich Cabinda is to host seven Nations Cup matches this month.