KUALA LUMPUR, July 17, 2009 (AFP) - Manchester United on Friday cancelled the Indonesian leg of their pre-season tour to Asia after a bomb exploded at the Jakarta hotel where they were due to stay next week.
"Following the explosions in Jakarta -- one of which was at the hotel the team were due to stay in -- and based on advice received, the directors have informed the Indonesian FA that the club cannot fulfil the fixture in Jakarta on the 2009 Asia tour," the club said in a statement.
They were due to fly to Jakarta after their match in Kuala Lumpur on Saturday evening and play an Indonesia XI in front of a sell-out 100,000 crowd.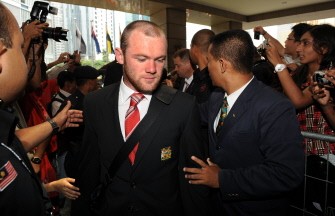 Manchester United striker Wayne Rooney (C) makes his way through the security and Malaysian fans upon the team's arrival at a hotel in Kuala Lumpur on July 17, 2009. (AFP photo)
The club said it was trying to reorganise that leg of the tour, which also includes matches in South Korea and China.
"We are working on a revised itinerary outside Indonesia with the promoters and we will make a further announcement when these decisions have been made," the statement added.
"We are deeply disappointed at not being able to visit Indonesia and thank the Indonesian FA and our fans for their support. Our thoughts go to all those affected by the blasts."