TOKYO, Jan 20, 2010 (AFP) - As bankrupt Japan Airlines prepares to shed fat in a bid to stay airborne, analysts say foreign rivals are gearing up for a "feeding frenzy" over the crippled carrier's routes and landing slots.
The once-venerable flag carrier's market value is now considerably less than one of its jumbo jets, but its slots to take off and land in Tokyo are coveted by foreign rivals.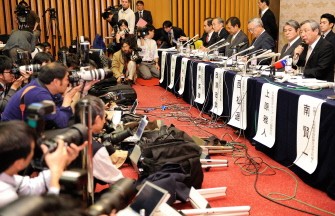 JAL President Haruka Nishimatsu (R) answers questions while President of the Enterprise Turnaround Initiative Corporation of Japan Hiroshige Nishizawa (2nd R) looks on at a press conference in Tokyo on January 19, 2010. AFP photo
A fierce battle is already underway between American Airlines and Delta Air Lines, which are both offering financial assistance to JAL in return for cooperation in areas such as joint flight operations through code-sharing.
Delta, the world's largest carrier, appears to be gaining the upper hand with an invitation for JAL to join the SkyTeam airline network, which currently has no Japanese partner.
On the table is a package worth 1.0 billion dollars -- a 500-million-dollar equity injection, a revenue guarantee worth 300 million dollars and 200 million dollars in asset-backed funding.
Seeking to trump that, American Airlines and its partners have offered the Japanese carrier an investment of 1.4 billion dollars if it stays in the Oneworld alliance, which also groups British Airways and Qantas.
"It's a feeding frenzy over the market and slots they would like to acquire to operate codeshare flights on behalf of JAL," said Andrew Miller, a former chief operating officer at Air New Zealand.
"The alliances are trying to acquire some benefit from working closely with JAL because the restructuring is going to take two to three years, and during that time there'll be some picking from the carcass of the bone."
Efforts to forge cross-Pacific partnerships were given added impetus last month when Tokyo and Washington struck an "open skies" deal making it easier for Japanese and US carriers to enter new code-sharing alliances.
If JAL joins SkyTeam, it is "highly likely that JAL's flights to America will be replaced by Delta", said Yasuhiro Matsumoto, a credit analyst at Shinsei Securities.
But it would take time for JAL and Delta to get approval from US authorities for joint operations, he added.
JAL's bankruptcy filing is just the first step in what is likely to be a long and complex overhaul by the debt-ridden carrier, which aims to slash more than 15,600 jobs and axe unprofitable routes to staunch massive losses.
JAL, which reassured passengers it would continue to operate flights during its bankruptcy, made no announcement regarding its talks with American Airlines and Delta Air Lines when it unveiled its turnaround plan Tuesday.
But just hours after it filed for bankruptcy, both US carriers issued statements saying they stood ready to support the once iconic airline.
"As JAL becomes slimmer, Delta would provide many flights," said Yoshihisa Akai, head of research at Japan Aviation Management Research, an advisory firm.
US giants are not the only ones waiting in the wings.
Japanese discount airline Skymark has long been seeking to expand in a country dominated by just two carriers -- JAL and All Nippon Airways -- and which has airfares much higher than those in Europe or the United States.
Across Asia, discount carriers such as AirAsia are seeking to muscle in on markets once dominated by flag carriers, now hobbled by a high cost base.
JAL's collapse came a day after Singapore-based budget airline Tiger Airways said it had raised about 178 million US dollars in an initial public offering to help fund its ambitious expansion plans in Asia.
"The JAL-Tiger story is part of an epic clash between the old world versus the new -- a battle the old world seems destined to lose," analysts at the Centre for Asia Pacific Aviation in Sydney wrote in a report.
Carriers in China -- on course to overtake Japan as the world's number two economy -- are also expected to pose a bigger challenge to JAL.
Chinese airlines "have strong potential to threaten their Japanese rivals as demand for aviation transport is expected to grow rapidly in Asia, particularly China", said Katsuyuki Nakai, an analyst at ratings agency Standard and Poor's.