Foreign purchases of US long-term securities surged in June, reversing an outflow the previous month and signaling recovery of battered financial markets, new data showed Monday.
The jump was primarily driven by a sharp increase in overseas demand for long-term US Treasury securities, including from China, the biggest owner of American debt, according to the monthly US Treasury international capital report.
It said that net long-term security transactions in June climbed to 90.7 billion dollars from negative 19.4 billion dollars in May as both private and official foreign investors beefed up their portfolios.
The June figure was substantially higher than market expectations of 17.5 billion dollars.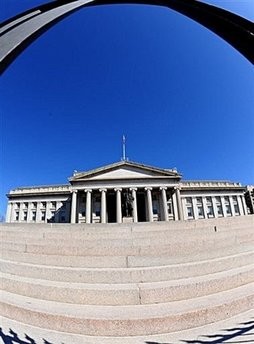 The US Treasury building in Washington, DC.
Analysts said the fresh data underscored a recovery in financial markets reeling from a prolonged US recession and signaled that the underlying demand for US securities remained healthy.
"This provides further support to the view that financial markets are on the road back to normalcy," said Bodhi Ganguli, an economist at Moody's Economy.com.
"In another sign that financial markets are on the mend, the June numbers confirm that foreign private investors are still interested in buying US financial assets and indeed participated in the upturn in US equity markets," he said.
The US stock market has rallied more than 45 percent from lows hit in early March amid expectations for recovery, but is still down around 35 percent from all-time highs in October 2007.
"Despite a number of foreign official statements venting concerns about the strength of the US dollar and the US fiscal situation, underlying demand for US securities remains fairly healthy," commented Brian Bethune, chief US financial economist for IHS Global Insight.
He said that overall US capital flows in the second quarter reflected significantly better conditions in the international capital markets, "and there are few signs of any diminished foreign interest in US long-term securities and equities."
The US budget deficit for the first 10 months of fiscal year 2009, which began October 1, reached 1.3 trillion dollars, close to 880 billion dollars greater than the deficit recorded through July 2008, according to the US Congressional Budget Office (CBO).
The non-partisan group said two weeks ago that outlays rose by almost 530 billion dollars, or 21 percent, and revenues fell by more than 350 billion dollars, or 17 percent, compared with the amounts recorded during the same period last year.
China, the top holder of US debt, has raised concerns in recent months about the mushrooming US debt, for fear it could erode the value of the dollar and its Treasury holdings.
US officials have traveled to Beijing to reassure Chinese leaders that their investments in US Treasuries were safe despite the deficit, which they pledged to cut.
The Treasury data Monday showed mainland China's holdings of US Treasury securities fell to 776.4 billion dollars in June from 801.5 billion in May.
However, China's holdings of long-term Treasuries actually went up -- by 27 billion dollars.
Japan, the second-largest holder of Treasury debt, raised its holdings to 711.8 billion dollars from 677.2 billion, according to the data.
Japan and Britain also increased their holdings of US Treasuries by 34.8 billion dollars and 51 billion dollars -- almost all in long-term -- respectively.
"As the UK is a financial hub, the rise in its holdings also suggests an increased appetite from private investors," Barclays Capital said in a report.