Former Philippines president Corazon Aquino, whose "People Power" revolution toppled dictator Ferdinand Marcos and restored democracy to the nation, died Saturday after a battle with colon cancer.
"Cory" Aquino was propelled into the political spotlight in 1986, leading millions of Filipinos in protests against the corrupt regime of Marcos, who jailed thousands of dissidents during his brutal 20-year regime.
As people across the Catholic nation woke to the news, President Gloria Arroyo declared a 10-day period of mourning for Aquino, whom she praised as a "national treasure."
Aquino's family announced her death early Saturday.
"Our mother peacefully passed away at 3:18 am, August 1, 2009 of cardio-respiratory arrest," Senator Benigno Aquino Jr, said in a statement outside the Makati Medical Centre in Manila, where his mother had been hospitalised.
"She would have wanted us to thank each and every one of you for all the prayers and the continuous love and support," he said.
"It was her wish for all of us to pray for one another and for the country," Aquino said.
Arroyo, in the United States on an official visit, said: "Aquino led a revolution that restored democracy and the rule of law to our nation at a time of great peril."
Former aide and press secretary Teodoro Locsin, who is also a close family friend, openly wept on television.
"The purity, the nobility, never failed. She never asked for anything," in return, Locsin said.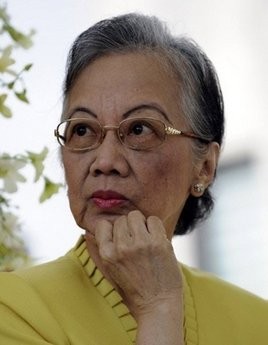 Former Philippines president Corazon Aquino (pictured in 2008)
He said more than anything else, Aquino removed the "centre of corruption in government, because she would not be corrupt."
US President Barack Obama "was deeply saddened" by Aquino's death, read a statement from White House Press Secretary Robert Gibbs.
"Her courage, determination, and moral leadership are an inspiration to us all and exemplify the best in the Filipino nation," the statement said.
Aquino's five children have opted to bury their mother in a private ceremony next week, and said they have not talked with any representatives from Arroyo's office.
People lined the streets Saturday as the hearse bearing her body made its way to a Catholic school where the public will be able to pay their last respects later in the day.
Military honour guards welcomed her remains, with the top brass pledging to defend democracy "that she has fiercely fought to regain."
She will be laid to rest beside her husband, Benigno "Ninoy" Aquino at a private cemetery on Wednesday next week, the family said.
In Manila's Makati financial district, huge posters of Aquino were displayed while neighbours left flowers at the family home. Requiem masses were held in Catholic churches nationwide.
A former housewife who reluctantly became president, the soft-spoken Aquino rewrote the country's constitution, freed all political dissidents jailed by Marcos, and initiated peace talks with insurgent groups.
Problems in her coalition would later emerge, and Aquino survived a series of bloody coup attempts by the same forces that went against Marcos.
"I realised that I could have made things easier for myself if I had done the popular things rather than the painful but better ones in the long run. After all, in the long run, I wouldn't be around to be blamed," Aquino once said while reflecting on her presidency.
Until March last year, when she withdrew from public life after being diagnosed with colon cancer, she had been active in street protests denouncing corruption in the government.
She had also repeatedly demanded that Arroyo, a former protege whose nine-year presidency has been marred by scandals, step down.
A humble moral crusader, Aquino once famously rejected an offer of a presidential limousine to travel to the inauguration of her successor, Fidel Ramos.
Aquino later joined the Church in rallying the public in a military-backed peaceful revolt that ousted president Joseph Estrada, a self-proclaimed womaniser and former action movie star whose regime was also rife with corruption.
Prior to her death, Aquino was reconciled with Estrada and allowed him to visit her bedside last week.
"She was a woman of both strength and graciousness," an emotional Estrada said Saturday. "Today, our country has lost a mother."