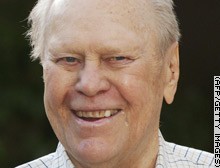 Former President Gerald Ford, 93, was oldest living
Former US President Gerald Ford, who became president in 1974 after the resignation of Richard Nixon, died Tuesday at age 93 in Rancho Mirage, California. According to a statement from his office.
The cause of death was not given.
Ford, the oldest surviving former U.S. president. The nation's 38th president spent several days in the fall of 2006 at Eisenhower Medical Center in Rancho Mirage for medical tests. At the time of his release, on October 16, his chief of staff, Penny Circle, said he would "resume normal activities."
In August, he was discharged from the Mayo Clinic in Rochester, Minnesota, after undergoing an angioplasty procedure to reduce or eliminate blockages in his coronary arteries. Doctors also implanted a pacemaker to improve his heart performance.
Source: CNN