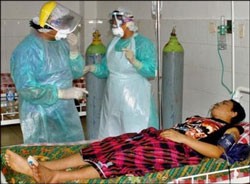 State-run hospital staff examine a man suspected of suffering from bird flu in Medan, North Sumatra, on May 14 (AFP Photo)
The unnamed manager is the third person from the Drakom Silva poultry operation in Codlea to be arrested in the last few days. The farm's veterinarian, Virgil Udrea, and its owner were both arrested on Wednesday, as was Pati Prod, the owner of another poultry farm in the town.
The two owners have been charged with "spreading disease among animals" and could face up to 15 years in prison if convicted.
Udrea is accused of knowingly allowing the sale of contaminated live birds to private farmers, according to prosecutors.
Romanian Agriculture Minister Gheorghe Flutur said on Friday that the bird flu virus has continued to spread across the country. It had contaminated poultry in 18 villages over the past week, bringing the number of localities affected to over 60, he said.
An additional 25 villages in six regions were being investigated for possible contamination, he said.
"Samples from a dozen of these sites have been sent to the British laboratory in Weybridge," Flutur said, referring to the European Union's reference laboratory for bird flu tests.
"We expect results early next week that will tell us whether the strain is an especially lethal (strain)."
The highly virulent H5N1 strain of bird flu can be transmitted to humans and is potentially fatal.
Flutur said the authorities had seized almost 325 tonness of chicken product from Drakom Silva that might be contaminated with bird flu.
There has so far been no case of human contamination from the animal disease.
Meanwhile, two days ago, WHO officially confirmed five more human bird flu cases in Indonesia.
Source: AFP