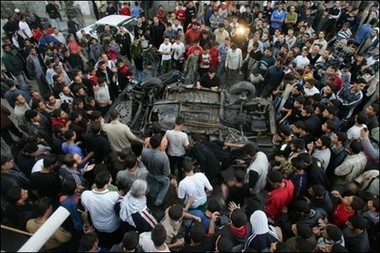 Palestinians gather around a destroyed vehicle following an Israeli missile attack in Gaza City
Four Palestinians, including three militants have been killed in the Gaza Strip as Israel continued to press an operation that has left 39 Palestinians and one Israeli soldier dead in four days.
Luaye al-Burnu, a local commander for the armed wing of the ruling Hamas movement, was killed in an air raid in Gaza City that wounded four other militants on Saturday.
Two people were killed in the northern town of Beit Hanun, which has borne the brunt of the Israeli operation since it began on Wednesday morning, aimed at stopping militants from firing rockets into Israeli territory.
Marwan Abu Harbid, 46, was killed by tank fire on his house while a Hamas militant, Ibrahim al-Bassiuni, 18, was killed by special forces fire.
In nearby Jabaliya, five members of Ezzedine al-Qassam Brigades, Hamas's armed wing, were wounded by artillery fire. One of them, Raed Siam, 30, then died of his wounds in hospital.
Friday was one of Gaza's deadliest days in weeks, when 19 Palestinians were killed in a series of strikes.
In all, 39 Palestinians, including at least 19 militants, and one Israeli soldier have died in "Operation Autumn Clouds" launched on Wednesday.
Since June 28, when Israel launched a massive offensive in Gaza after militants killed two soldiers and seized a third in a cross-border raid, some 300 Palestinians and three Israeli soldiers have been killed in the fighting.
Saturday's deaths bring to 5,504 the number of people killed since the start of the second Palestinian uprising in September 2000, the vast majority of them Palestinians, according to an AFP count.