Four towns in Nepal were under day-time curfew on Friday as the government set up a three-member talks team to try to end ethnic unrest that has killed 13 people.
"The committee, comprising three ministers, will start its work from Friday to resolve the Mahadhesis problem," tourism minister Pradeep Gyawali told AFP.
Two protesters died Thursday in the violence that has swept the Terai plains bordering India in the last two weeks after former rebel Maoists shot and killed a Mahadhesi protester.
The Mahadhesi community, which dominates the area and accounts for a third of Nepal's 27 million people, has long complained of discrimination and demanded more representation in government.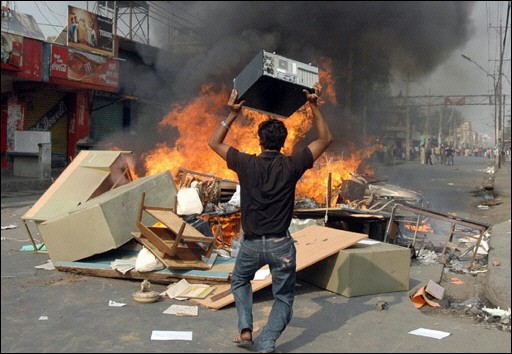 Protestor from the Mahdheshi community throws office equipment onto a blazing barricade in Birgunj, Nepal.
Nepal's prime minister has appealed for calm and pledged to tackle Mahadhesi issues.
Curfews were in force in Janakpur, Birgunj, Inaruwa and Biratnagar, officials said, adding that the unrest had disrupted road travel.
"Thousands of (bus) passengers have been stranded for the past couple of days as transportation has come to a complete standstill due to ongoing unrest," said chief district officer Modraj Dottel from Biratnagar, 550 kilometres (340 miles) southeast of Kathmandu.
The leader of Nepal's Maoists expressed sympathy for the protesters at a press conference Thursday.
"We express our solidarity with the genuine demands of the Mahadhesi people who are organizing the protests, but some royalist and international forces have intervened in the Mahadhesi protests and given rise to the communal violence," said Prachanda, whose name means "the fierce one."
Several former royal-appointed ministers and pro-monarchists were arrested or placed under surveillance this week, accused of fomenting the unrest.
But Mahadhesi leaders deny any royal links.
On Monday, a minister in the seven-party alliance government resigned after accusing the administration of failing to address the Terai region's problems.