Four people, including an Australian and a New Zealander, survived a fiery plane crash in dense forest in Papua New Guinea in which 28 are feared to have died, Australian officials said Friday.
The Airlines PNG flight from the mountain gateway city of Lae to Madang, believed to be carrying parents travelling to see their children ahead of their university graduation, went down on Thursday as a violent storm closed in.
"Airlines PNG and local authorities have advised that there were 28 passengers and four crew on board," a spokeswoman for the Australian foreign ministry told AFP.
"They understand that four people survived the crash, including one Australian pilot and one New Zealand pilot."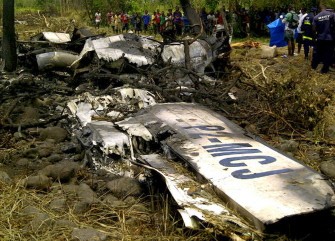 Locals gather at the crash site of an Airlines PNG Dash 8 plane near Madang in Papua New Guinea on October 14, 2011.
Papua
New Guinea's Accident Investigation Commission said weather had been poor when the Dash 8 came down in dense forest near the mouth of the Gogol River, about 20 kilometres (13 miles) from its destination.
But they were unable to confirm whether a storm caused the crash.
"The crew have experienced a problem, the thing has actually gone down overland with reports of fire and there have been some fatalities," the commission's Sid O'Toole said.
Reports said that villagers saw the plane crash and burst into flames, adding that four people -- the two pilots, one crew member and a passenger, believed to be a Chinese national -- survived.
One man reportedly told staff at a Madang hospital he escaped the burning wreckage through a break in the fuselage.
"He told the nurses he was sitting on the seventh seat and the plane broke in half," local journalist Scott Waide told the Australian Broadcasting Corporation.
"While struggling to get out, his arms got burnt and his back got burnt."
Nurses at the hospital confirmed to AFP that a middle-aged Asian man with burns to his back and arms, and other signs of trauma including bruising, had been brought in from the crash site. He was conscious and talking, they said.
More than 20 planes have crashed since 2000 in Papua New Guinea, whose rugged terrain and lack of roads make air travel crucial for its six million citizens.
A 20-seat Twin Otter went down in August 2009, killing 13 people including nine Australians and a Japanese tourist on the short journey from Port Moresby to the popular Kokoda trekking site.
That accident -- in which the aircraft ploughed into a mountainside -- also involved an Airlines PNG plane, with a subsequent report ruling pilot error was probably at fault in poor visibility.
PNG has since introduced legislation requiring all aircraft carrying more than nine people to have a cockpit recorder installed.
The impoverished South Pacific nation has only had an air accident commission since 2008, established in response to claims that corruption and a lack of funding had led to a sharp decline in safety standards.
Airlines PNG said it had grounded its Dash 8 fleet of 12 aircraft until further notice in the wake of the accident.
Public Enterprises Minister Sir Mekere Morauta confirmed that many people died in the crash, which he described as a terrible accident.
"I offer my condolences to the families of the victims of this disaster," he said.
Most of the passengers were believed to be Papua New Guineans heading to Madang for thanksgiving ceremonies ahead of the graduation of fourth-year students at the Divine Word University.