PARIS, July 27, 2010 (AFP) - France is "at war" with Al-Qaeda and will step up military involvement in North Africa after the regional branch of the jidahist group killed a French aid worker, the prime minister said Tuesday.
"We are at war with Al-Qaeda," Francois Fillion said in a radio interview.
"The fight against terrorism continues and it is going to strengthen, particularly against AQIM," he said, using the acronym for Al-Qaeda in the Islamic Maghreb.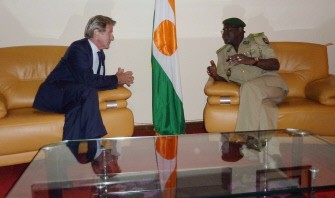 French Foreign Minister Bernard Kouchner (L) meet with Niger's leader, general Salou Djibo (R) on July 27, 2010 at the presidential palace in Niamey, Nigeria. AFP
But officials and experts said any action would stop short of a full-scale armed intervention and would probably involve closer working ties with local anti-terrorist forces.
President Nicolas Sarkozy has vowed to respond to the killing of Michel Germaneau, 78, who was kidnapped in April in Niger, and on Tuesday officials met to discuss possible French action in the region.
Axel Poniatowski, head of a parliamentary foreign affairs commission, said after meeting Fillion that France would offer "logistical assistance" to operations by national armies in Sahel countries.
Asked if France was contemplating air strikes, Poniatowski said: "I don't think so... (because) these are camps of about 20 men who are very mobile and change location every day or very regularly."
"We can't talk of reprisals. We can't talk of vengeance. But it is clear that France will offer its support to actions that could be carried out by Mauritania, Mali or Niger," he said.
Foreign Minister Bernard Kouchner visited the three countries on Monday and Tuesday and said France stood by their fight against the militants but was not aiming for a "military escalation" in the region.
"It is not a military escalation that France is pursuing. Simply, a deadly escalation has been carried out by the people of AQIM," he said, referring to the killing of the hostage.
"There is a military option that was imposed on us," he said in Niamey. "We will be alongside our Nigerien, Malian, Mauritanian friends."
Asked if French military bases would be established in the region, he said: "We are not going to install bases. We have very clear defence agreements."
A source in the prime minister's office said that the French military would step up "cooperation in training the armies" of the Sahel region countries but would not send extra troops itself.
AQIM said Sunday it executed Germaneau in revenge after French and Mauritanian soldiers killed six of its militants in a failed bid to rescue him in Mali last week. Mauritanian officials said seven were killed.
Some French officials had suggested privately that the aid worker's captors may have already killed him weeks before the raid, and on Tuesday Fillon became the first to do so in public.
France had joined the raid by Mauritanian forces against AQIM on Malian soil "because we hoped that Michel Germaneau might be in the camp," Fillon told Europe 1 radio.
"I think the hostage's life was condemned from the day we received this ultimatum on July 12," he added, however. "We might think Michel Germaneau was already dead at that time. But that is just a supposition."
France is the former colonial ruler of most of the Sahel, a desert region along the south of the Sahara running through Mauritania, Mali, Niger and southern Algeria, and retains influence with regional leaders.
Paris already has military cooperation agreements with its former West African colonies, and helps to train and coordinate local anti-terror forces, in an area which receives around 30,000 French tourists per year.
Some experts said France's scope for military action in the vast desert region is limited.
"I think they will make a big show of doing something, carry out an air raid to destroy a tent and a few camels," said one French anti-terrorism specialist, who asked not to be named.
"They'll lay hold of two or three poor idiots who are hanging around and say, 'There, job done.'"