French police colonel Stephane Gauffeny started the year with a heavy caseload.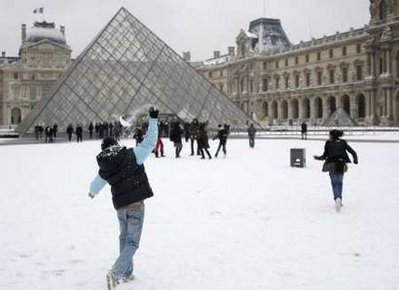 Louvre Museum that has lost a lot of treasures
His job: investigating the theft of art and treasures in France, one of the best-endowed and most stolen-from countries in the world, which was struck by two major crimes in the week after Christmas alone.
In the first, a picture by Edgar Degas worth 800,000 euros (1.14 billion dollars) was unscrewed from the walls of a museum in Marseille.
The colourful pastel of performing singers, titled "The Chorus", was on loan from the Musee d'Orsay, Paris's eminent museum of Impressionist art.
Three days later, police discovered the theft of some 30 paintings valued at around a million euros, including works by Picasso and Rousseau, from a private villa in the south.
Both cases crossed Gauffeny's desk at the government's cultural theft investigations squad, where he oversees national efforts to "identify stolen objects and beat the traffickers."
"It's an enormous job -- a fascinating job," the stocky gendarme told AFP, sipping milky coffee at a Paris cafe after a morning of meetings.
Local and foreign thieves have for years been targeting the collections in French museums, churches and private homes, exploiting a rich cultural heritage that draws millions of foreign visitors a year.
In last year's highest profile case, thieves broke into a museum devoted to Spanish artist Pablo Picasso in central Paris and stole a book of his pencil drawings valued by the government at three million euros.
Gauffeny says thefts have declined by a factor of four in the past decade as thieves look for loot that is easier to sell and France has stiffened penalties for those convicted of stealing objects classed as cultural assets.
But this still left 2,000 thefts across the country in 2008, according to his figures.
"We concentrate our energy on the biggest thefts or the biggest criminal rings," Gauffeny said, citing an ongoing investigation of auctioneers at the renowned Drouot auction house in Paris.
Two Drouot brokers were charged last month after police recovered more than 100 artworks, including a painting by the 19th-century artist Gustave Courbet, "Seascape Under Stormy Skies", worth 900,000 euros.
Gauffeny said it was a huge case and "extremely rare", possibly involving scores of insiders -- a different class of crime from the armed robberies or opportunistic thefts that his unit has dealt with in the past.
"We have put all our investigative resources into it," he said.
The cross-border police agency Interpol, based in Lyon, cites France and Italy as the two nations worst affected by the theft of precious artworks and antiques.
In August it launched an online catalogue of missing artefacts, which lists hundreds of paintings stolen in France as well as crucifixes, chalices and other treasures burgled from its churches over the decades.
"France has a relatively large national heritage," says Aline Le Visage, the representative in France for the Art Loss Register, a private firm that logs and identifies stolen objects for victims, dealers and other clients.
This abundance makes it "a country of choice" for art thieves -- and many great works are held not by museums but by private individuals, she said.
"There has been a slight fall in thefts over the past 10 years or so on a world level, but we have noticed a rise in thefts from private owners and also in galleries."
Robbers have struck at museums in Paris and other cities, sometimes in broad daylight, Gauffeny says, recalling various sting operations and cross-border hand-offs of stolen artworks, many of which quickly vanish abroad.
Police say major artworks are usually trafficked abroad, sometimes within days of being stolen -- most to neighbouring European countries, but sometimes as far as the United States and Japan, from where they are rarely recovered.
Demand follows the same general trends as the legal art market, and much art crime is carried out by insiders. "Most of the people fencing the items are art dealers," Gauffeny said.
Objects of lesser value often stay in France, sometimes held in reserve by the traffickers who quietly leak them back onto the market years later.
In one operation in 2008 in Marseille, Gauffeney said, police infiltrated a ring of thieves and seized paintings by Monet and Sisley after posing as buyers who wanted to take the works to the United States.
In another, near Lyon, an investigation into antique-dealing circles led police to a vast haul of stolen goods in a storage space spanning hundreds of square metres.
Outside the big city museum cases, Gauffeny and other experts say most of the crimes hit softer targets: unsecured provincial venues, churches and homes.
Didier Rykner, a fine art specialist who monitors thefts on his online journal La Tribune de l'Art, said many works are at risk in run-down, unguarded museums on which authorities are unwilling to spend money.
"In my opinion the problem of theft is more serious in churches than in museums. There are major works in churches and they are less well guarded," he said.
"Yet the more valuable a work is, the harder it is to sell, because everyone knows the object."
Some of the biggest cases, such as last year's stolen Picasso, nevertheless remain unsolved, leaving plenty of work for Gauffeny's department and its huge database of stolen items.
"We are always particularly on the look-out for national treasures," said Gauffeny, while for minor or privately-owned artefacts, "the rate of recovery is low."
The fight to recover cultural relics is "a really fascinating job, full of emotion," he added.
"When you return objects stolen from a church, the whole village comes out to see you."