The French capital hunkered down Tuesday for a snow and sleet storm, banning lorries from motorways and warning of massive flight cancellations as icy conditions made for treacherous travel around north Europe.
French road authorities issued a ban against heavy commercial road traffic starting after midnight Wednesday until noon on motorways in eight departments around Paris due to a new winter storm brewing Tuesday night.
Conditions were expected to be especially hazardous because of icy sleet. Some 58 departments in northern and central France have been placed under an orange alert by Meteo France.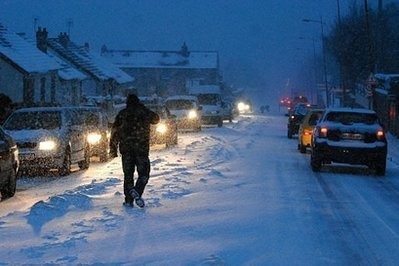 Cars drive on a snow covered street following heavy snow in Cherbourg, France.
At Paris's main airport, aviation authorities warned that the storm may force airlines to cancel up to half of their flights, with disruption compounded by a strike.
The state civil aviation safety authority DGAC "has asked airlines to cancel from tomorrow morning at least 30 percent of their flights from Roissy (Charles de Gaulle airport), which could rise to 50 percent if necessary," it said in a statement on Tuesday.
At Orly airport, the other main Paris international air hub, "traffic will be reduced by 50 percent," it said. Final decisions on cancellations will depend on conditions on Wednesday morning.
The DGAC said that a two-day airport strike in several cities against reforms of the air transport sector was likely to disrupt air traffic even further.
Another strike in France could literally affect the weather.
Some 60 workers of Meteo France went off the job Tuesday to protest proposed reorganisation plans, forcing the closing of several departmental centres in the west of the country, union sources said.
In Germany, falling temperatures created dangerous, icy roadways, causing numerous accidents, some fatal, and motorway closures and delays around the country.
An elderly woman and her passenger died after their car skidded into the path of oncoming vehicles on an ice-covered bridge in the Black Forest in southeast Germany. One person in another vehicle died.
A 22-year-old man died in the west of the country after his car spun out of control on ice, reportedly smashing into a tractor trailer.
The German Automobile Association (ADAC) warned motorists to expect long delays and to be extremely careful.
"Roads can turn into ice rinks in seconds or in minutes," it said.
Countries trying to make ice- and snow-covered roads passable cannot count on Switzerland for the much needed salt to clear the way.
Switzerland's main publicly owned salt works said Tuesday that it had turned down new orders from the snowbound Netherlands and Germany in order to cater for booming domestic needs in the cold snap.
"The situation is so fragile that were can't take the risk of delivering abroad," said Armin Roos, sales manager at Schweizer Rheinsalinen, a monopoly owned by Swiss regional governments. "We're running round the clock."
Over the past 10 days alone the salt works have distributed about 40,000 tonnes of salt and have about 58,000 tonnes left in storage.
The Alpine nation normally consumes about 100,000 tonnes of salt over a whole year to clear public highways, according to the firm's website.
Further south in Spain, temperatures rose several degrees Tuesday, improving road, rail and air traffic conditions disrupted by heavy snowfall.
However, much of the country remained on alert, with strong winds of up to 80 kilometres per hour and heavy rains forecast in many areas, notably in northern regions and around Madrid.
The national electricity grid reported its highest power surge of the winter due to the freezing temperatures late on Monday.
Heavy rains in Portugal have raised the water of the Alqueva dam, which forms the largest artificial lake in Europe, to its maximum capacity for the first time since it was inaugurated in 2003.
Flooding from heavy rains in the Balkan states Tuesday drove not only man, but also beast, from home.
In Montenegro, a hippo was found wandering in village of Plavnica on Lake Skadar after flooding at a private zoo led him to escape from his pen.
"He sometimes escapes his habitat when the water levels rise and this is not unusual," Nikola Pejovic, one of the owners of the complex, told AFP.
Pejovic said that the hippo, named Nikica, weighing about two tonnes, "usually walks along already known path, about one kilometer (0.6 miles) long, towards neighbouring houses."
But not to worry. "Nikica is their regular guest and locals are completely used to him," Pejovic added.