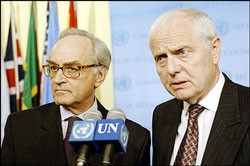 Jean-Marc de La Sabliere (L), France's ambassador to the UN and Emyr Jones Parry (R), Britain's UN ambassador (AFP Photo)
The text, worked out in close consultations with Germany and the United States, invokes Chapter 7 of the UN Charter, which can authorize economic sanctions or even as a last resort the use of force in cases of threats to international peace and security.
It says "Iran shall suspend all enrichment-related and reprocessing activities, including research and development, to be verified by the IAEA ( International Atomic Energy Agency), and suspend the construction of a reactor moderated by heavy water".
It was submitted to the 15-member council during closed-door consultations on the report submitted last Friday by IAEA head Mohamed ElBaradei which concluded that Tehran had failed to comply with UN demands.
Iran insists that its nuclear program is peaceful and has rejected demands to end its uranium enrichment.
The Franco-British text does not call for sanctions at this stage but said the council would "consider such further measures as may be necessary to ensure compliance with this resolution and decides that further examination will be required should such additional steps be necessary".
It stresses that "full verified compliance by Iran, confirmed by the IAEA Board, would avoid the need for such additional steps".
The draft also calls on "all states to exercise vigilance in preventing the transfer of items, materials, goods and technology that could contribute to Iran's enrichment-related and reprocessing activities and missile programs".
It says ElBaradei will be given an unspecified number of days to report on Iranian compliance both to the IAEA Board of Governors and the Security Council.
France's UN Ambassador, Jean-Marc de La Sabliere, however told reporters that Iran was expected to comply "no later than early June".
His US colleague, John Bolton, also spoke of a "very short period of time" for Iran to comply, adding "the key lies in Iran's hands".
"We are going to support this text ... We hope for unanimity in the council but not unanimity at any price," he added.
The draft emerged a day after senior officials of the council's five veto-wielding permanent members -- Britain, China, France, Russia and the United States -- plus Germany failed to agree on a united response to Iran's defiance at a meeting in Paris.
Bolton said he hoped the council would vote on the Franco-British measure before Monday when foreign ministers of the same six powers are due to revisit the issue at a meeting in New York.
Bolton said the ministers were meant to concentrate on "the broader picture".
But there was no sign that China and Russia, which are close trading partners of Tehran, were prepared to lift their opposition to sanctions or to the reference to Chapter 7.
Asked whether Chapter 7 was acceptable to Beijing, Chinese ambassador Wang Guangya said: "No."
Nicholas Burns, the number three at the US State Department, said after the Paris meeting that "all agreed that the Iran nuclear program should be suspended, and agreed to begin Security Council debate and start negotiating a resolution for suspension".
Bolton also voiced impatience Tuesday and threatened to form a coalition of allies to impose sanctions on Iran outside the UN framework.
If the Security Council is unwilling or unable to impose sanctions on Iran, then "I'm sure we would press ahead to ask other countries or other groups of countries to impose those sanctions," Bolton told a congressional committee in Washington.
Iran retorted by accusing the United States of using bullying tactics.
"We will not give up our undeniable nuclear rights in the face of US bullying. Fake threats will not crack our will," foreign ministry spokesman Hamid Reza Asefi was quoted as saying by Iranian news agencies.
The United States, backed by Britain, France and Germany, alleges that Iran is seeking a nuclear weapons capability under the cover of its civilian atomic program.
Source: AFP