France, July 6, 2009 (AFP) - British Prime Minister Gordon Brown joins French President Nicolas Sarkozy in this Alpine town Monday to prepare for the G8 and agree on new efforts to stem the flow of migrants.
The 30th Franco-British summit in Evian-les-Bains follows up on Sarkozy's high-profile state visit to London in March last year when Brown proclaimed that relations were on the upswing.
It comes two days before the Group of Eight leading powers gather in the quake-stricken Italian town of L'Aquila to address a host of world problems, from the global slowdown to climate change and the Iran crisis.
Meeting on the shores of Lake Geneva, Sarkozy and Brown are to issue a joint call for G8 action to cut greenhouse gas emissions, halt erratic oil prices and closely monitor banks after the 2008 financial meltdown.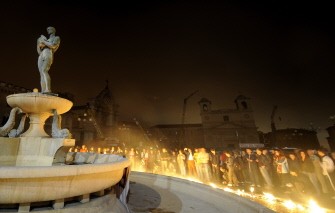 Residents and demonstrators observe a moment of silence at 03h25 as they take part in a a torchlight procession in L'Aquila, Italy on July 6 to commemorate the exact time of the third month anniversary of a 6.3 magnitude quake which hit the Abruzzo region in April killing 299 people. The summit of the world's leading industrial countries is to take place in the town from July 8-10. (AFP photo)
France and Britain will sign an agreement to strengthen immigration controls on both sides of the Channel by boosting patrols and committing more resources, French officials said.
The deal will help Sarkozy's government fulfill its pledge to shut down by the end of the year a squatter camp in northern France used as a springboard by migrants trying to reach Britain.
France has long urged Britain to help it deal with the migrant problem in the port of Calais, where hundreds of would-be asylum seekers living in tent camps try to sneak on trucks that cross the Channel by ferry or train.
Accompanied by top government ministers, the two leaders are to push for a plan to contain the volatility of oil prices, now trading at below 70 dollars a barrel, less than half of the 145-dollar-a-barrel peak in July last year.
"We all need more energy price stability. High oil prices greatly destabilise the global economy," Sarkozy said during a recent visit to Abu Dhabi.
"Why not devise a deal between producers and consumers to present to the market over the general price direction... a price range that encourages investment but does not shackle the consuming economies?"
On climate change, Sarkozy and Brown are to close ranks and call on their G8 partners to provide new impetus so that a deal on cutting greenhouse gas emissions can be reached at the Copenhagen conference in December.
The 27 European Union countries have agreed to cut greenhouse gas emissions by 20 percent of 1990 levels by 2020 -- a number that could be increased to 30 percent if other countries make commitments.
The United States, which walked away from the Kyoto protocol on climate change, has changed course under President Barack Obama and a bill before Congress would cut emissions by 17 percent from 2005 levels.
But European leaders have said Washington's cutbacks do not go far enough.
Sarkozy and Brown will discuss the future of the 20-billion-euro (28-billion-dollar) project to build the Airbus A400M military transport plane, which has been plagued by delays.
Britain has raised concerns about mounting costs, but French officials said last week they were confident London would not drop out of the seven-nation consortium behind the project.
During Sarkozy's visit to London last year, Brown had qualified relations as an "entente formidable" (marvellous entente), a play on words on the 1904 "entente cordiale" agreements that eased antagonisms between Britain and France.
The two leaders have worked closely together to tackle the fallout from the financial crisis that has dragged both their economies, and most of Europe, into a recession.
France however has been feeling less of a bite from the recession than Britain, prompting Sarkozy to vaunt the merits of France's state-driven economics against the "Anglo-Saxon" model of laissez-faire.