Brigitte Bardot, the 1950s sex goddess who became a feminist icon and symbol of sexual liberation, turns 75 on Monday with her native France at her feet and a very first exhibition in her honour.
Now a virtual recluse who walks on crutches because of arthritis, Bardot will neither attend the Tuesday launch of the giant exhibit -- "Brigitte Bardot: The Carefree Years" -- nor appear on camera.
But in a voiced comment on French television she said: "I am proud to have an exhibition, to be recognised for what I've done with my life."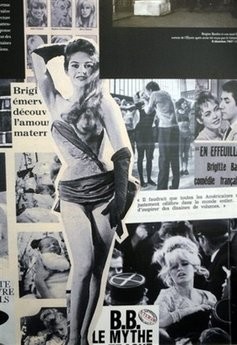 Newspaper and magazine articles are displayed as part of an exhibition devoted to French star Brigitte Bardot, who will be 75 on September 28, 2009
One of the 20th century's last living icons, the little girl who loved stuffed animals and ballet dancing grew up to become a cult figure of freedom.
From teen idol to fashion goddess to sex bomb, Bardot wound up embodying the spirit of the times -- the empowerment of women and the tide of sexual liberation.
But it all became too much.
News footage at the exhibit sees Bardot at the height of her career being mobbed at the Cannes festival by hysterical fans who are beaten back and sent flying to the ground by police as they tear at the star.
Suddenly Bardot shrieks, lets out another piercing cry, drops to the ground in a faint, and has to be hauled off to safety on the shoulders of police.
The Paris show gathering some 2,000 photos, films and mementos -- few of them hers -- spans B.B.'s life and times from her teens, when she rocketed to stardom, to her retirement aged just 39 in 1973.
They include portraits by Andy Warhol on loan from her third husband, millionaire German playboy Gunter Sachs, and the gingham wedding dress she wore for husband number two, Jacques Charrier, which made country-bumpkin pink gingham stylish worldwide.
It was Charrier who brought up the boy they had together.
Holed up since 1973 with her beloved animals in the French Riviera playground resort of Saint Tropez, Bardot complains the last years have not been easy, hit by a fall in grace after a lifetime in the limelight.
Married -- for the fourth time -- to a former aide of far-right leader Jean-Marie Le Pen, she was prosecuted for inciting racial hatred and generally ostracised after writing against the "Islamisation" of France.
"I'm honest, frank and true and say what I feel like saying and that's why I'm criticised," she said this week. "I will never be ashamed of what I did, what I said, or who I was."
"I have no remorse or regrets."
Unlike many, the woman often dubbed the barefoot goddess for her natural and unsophisticated beauty and style, never attempted to make a secret of her age and never resorted to cosmetic surgery.
Spontaneity and sincerity in fact are part and parcel of the Bardot myth.
"She does what she pleases and that is what upsets," wrote the feminist writer and existentialist Simone de Beauvoir, who famously penned a 1959 essay on the Bardot phenomenon titled "The Lolita Syndrome".
Bardot titillated the intelligentsia after unleashing a moral storm in the United States and worldwide in an early movie "And God Created Woman", directed by first husband Roger Vadim.
The 1956 trailer describes heroine Juliette, an amoral girl with a sound sexual appetite, as "a demon-driven temptress". Husband Vadim, also married four times including to Jane Fonda, said: "You will become the unattainable fantasy of all married men."
As Juliette, Bardot danced barefoot, sweaty and dishevelled to a mambo beat in a scene that became a defining moment in film and embodied the moral sea-change from the prudish postwar era to the newfound freedom of teenagers.
"A saint would sell his soul to the devil to see Bardot dance," said de Beauvoir, who described her as the "locomotive of women's history".
"She has no idea what her rights or her duties could be. She follows her inclinations. She eats when she's hungry and makes love as simply."
But freedom had its ups and downs for the woman raised in a well-off, straight-laced and well-connected Parisian family.
She scored the first of many magazine covers with Elle when barely 16 with the help of her mother, and at age 18 starred in a first film.
Marriages and relationships came and went; motherhood turned out to be too difficult. "I was never a great actress," Bardot said this week. "I lived what I was asked to act."
Unable to cope with life as a celebrity, she retired from films to pose on icebergs with baby seals as she switched from sex symbol to saviour, selling off everything she owned to fund her animal rights foundation.
"Love from other people has helped me survive," she said this week.
"I was never that interested in life. If I hadn't had the animals to look after, I think I would've quickly stopped enjoying it, like Marilyn (Monroe) or like Romy (Schneider)."
"Brigitte Bardot: Les Annees Insouciance" runs until January 31 at the Espace Landowski. Details at www.expobrigittebardot.com