MEXICO CITY, March 9, 2009 (AFP) - French President Nicolas Sarkozy and his Mexican counterpart Felipe Calderon signed a slew of business deals and vowed to boost growing ties on Monday.
Talks between the two leaders, during Sarkozy's first visit to Mexico, focused on the economic crisis and joint positions ahead of a Group of 20 summit of industrial and developing nations in London in April.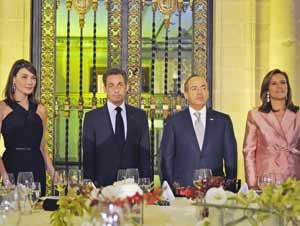 French President Nicolas Sarkozy(2L), with wife Carla Bruni Sarkozy (L), his Mexican counterpart Felipe Calderon (2R), and Mexican First Lady Margarita Zavala (R) are pictured during the official dinner in Mexico City March 9 (Photo:AFP)
"We're going to do everything to bring a joint message" to the summit, Sarkozy said at a news conference with Calderon.
The two leaders signed deals on security, and on setting up a vaccine plant and a Franco-European helicopter factory in Mexico.
The European Aeronautic Defence and Space Company (EADS) and French group SAFRAN requires the factory to deal with a number of helicopter orders, Sarkozy said, without giving further details.
The two leaders also said a group of legal experts would study the possible transfer to France of a Frenchwoman jailed in Mexico on kidnapping charges, in a case that has sparked outrage in Mexico where abductions are rife.
The issue of Mexico's drug violence has burst onto the international stage in recent weeks, with reports of growing attacks and trafficking activity from Mexican cartels across the United States, Canada and even West Africa.
Sarkozy said France would provide support to Mexico's police to help Calderon in his battle against the cartels and the violence which has left more than 1,000 dead this year alone.
"We want to help Mexico to resolve this alarming problem of insecurity," Sarkozy said.
The Mexican president thanked France and also urged the United States to assume its responsibility in the fight against organized crime.
"If intelligence units of specialized police or military agencies in the United States have information on Mexican criminals in the United States, we want that information," Calderon said.
The Mexican president underlined that there would be no impunity in the sensitive case of 34-year-old Florence Cassez, who may be allowed to transfer to a French jail to serve a 60-year sentence for her role in a Mexican kidnapping gang.
Sarkozy said that a working group of legal experts from both countries would start to study the case on Tuesday.
If Cassez formally sought to be repatriated, France would support her demand, he added.
"This does not represent impunity in any way, it represents the application of an international treaty," Sarkozy added.
Calderon said both he and the families of the kidnap victims were concerned France may decide to change, reduce or annul her sentence.
"In Mexico justice is guaranteed not only to the victims of this gang, but to all Mexicans. Nobody in Mexico, regardless of their economic condition or nationality, can exempt themselves from obeying the law," the president said.
After meeting Sarkozy, anti-delinquency leader Maria Elena Morera said she received assurances "that when the (extradition) process is over, she (Cassez) will serve out her sentence in France. We wouldn't agree to a reduced sentence,"
Cassez was arrested in December 2005 at the home of her Mexican boyfriend, alleged gangster Israel Vallarta, where police found several kidnap victims being held for ransom, including an eight-year-old child.
Sarkozy also spoke before the Mexican Senate and met with business people and the French community, and was due later to dine with Calderon.
Sarkozy's one-day official visit, which followed a beach trip with his wife Carla Bruni, came as Mexico seeks to diversify its export destinations, with 80 percent of its exports currently headed for the crisis-battered United States.
Mexico is France's fourth-largest partner in the Americas after the United States, Brazil and Canada.
In 2008, French exports to Mexico represented 3.26 billion dollars, and Mexico's exports to France were at 1.14 billion dollars.
Some 350 French firms are established in Mexico employing around 80,000 people.