The international military operation in

Libya

is not bogged down, French Foreign Minister Alain Juppe said Thursday, insisting that rebel forces were making progress in the fight against Moamer Kadhafi.
"We cannot speak of getting bogged down. We are five months into our operations (and) no one talked about a lightning war," Juppe told France 2 television.
But, he acknowledged: "We probably underestimated the resistance that would be put up by Kadhafi's forces."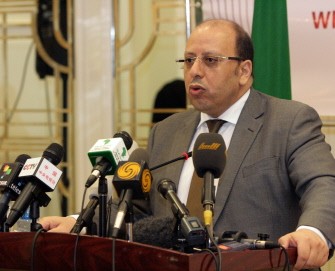 Libyan deputy foreign minister Khaled Kaim gives a press conference on August 4, 2011 in Tripoli after an oil tanker laden with tonnes of petrol steamed into the port of Benghazi, with rebels on board claiming they seized the vessel from government control between Malta and Tripoli.
Juppe said the rebel National Transitional Council's ground forces "are making progress in the south and the west of the country."
"Southern Libya is practically under the NTC's control," he said, adding that rebel forces are "making progress in the west toward Tripoli and in the Brega region" home to a strategic northern oil port off the Mediterranean Sea.
Juppe said international forces would also "continue to put this military pressure" on Kadhafi.
He also rejected reports of divisions within the rebels following the mysterious killing of the head of the anti-Kadhafi forces, General Abdel Fatah Yunis.
"I don't think we can talk about divisions. The causes of general Yunis's assassination are still not completely known but the changing of the guard was assured and we have confidence in the NTC leaders."
France is among several nations leading the charge in NATO-coordinated strikes against Kadhafi's military assets as part of a UN mandate to protect civilians. Paris was also the first foreign state to formally recognise the rebels as the country's legitimate rulers.