French police arrested ETA's alleged military chief on Monday, the most wanted Basque separatist still at large and a man Spanish officials branded a "bloodthirsty terrorist."
Miguel De Garikoitz Aspiazu Rubina, 35, alias Txeroki, was captured in Cauterets, a spa and ski resort in the Pyrenees near the border with Spain's autonomous Basque region, which ETA wants to see independent.
The arrest came just six months after that of the militant separatist group's presumed leader, 49-year-old Javier Lopez Pena, and Spanish officials boasted that the operation had "decapitated" the organisation.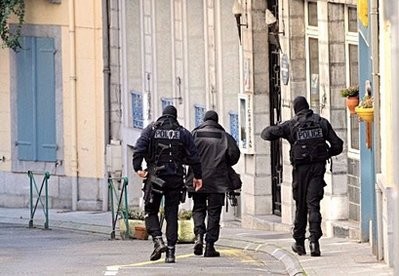 French policemen walk in the streets of the southwestern town of Cauterets
"Today, ETA is weaker and Spanish democracy is stronger," Spain's Prime Minister Jose Luis Rodriguez Zapatero declared.
"It has not lost its capacity to cause harm," he warned. "But with this arrest it has suffered a hard blow to its organisation and its capacity."
French Interior Minister Michele Alliot-Marie accused Txeroki -- whose nom de guerre is the Basque spelling of "Cherokee" -- of shooting dead two Spanish undercover officers in France last December.
"He will in all likelihood be handed over to the Spanish authorities," she told reporters in Paris.
In a sign of cooperation between the two countries, Zapatero and French President Nicolas Sarkozy plan to hold an extraordinary summit soon to discuss "anti-terrorism" measures, a Spanish government source said.
Txeroki is reputed to be a hardliner opposed to talks with the Spanish government, and Zapatero's ruling Socialist Party hailed his arrest.
"This is magnificent news of great importance because it is the chief of the ETA commandos, the person who was behind attacks, who gave the order to kill and who himself killed, a very bloodthirsty terrorist," the party said.
Police sealed off a road in the centre of Cauterets after the pre-dawn operation at a house where Txeroki and an alleged female accomplice were sleeping, and began a long search for evidence.
Neighbours said they saw and heard nothing of the raid, which targeted a studio flat rented out by the house's elderly owner.
A handgun, false papers and a computer were seized in the operation, and a woman suspected of also belonging to ETA was arrested, according to a French official familiar with the investigation.
Detectives are hoping to match Txeroki's DNA to evidence found at the scene of December's double murder, he added. The female suspect is "apparently his girlfriend," a police source said.
Separately, a convicted ETA member was arrested in Northern Ireland after surrendering to authorities acting on an extradition request from Spain.
A Spanish court had issued a European arrest warrant for Juan Ignacio de Juana Chaos after he failed to appear for questioning on a charge of glorifying terrorism.
He was freed from a Spanish jail in August after serving around 20 years for the killing of 25 people in 11 attacks.
The net had been closing on Txeroki, who has led ETA's military wing since 2003, since the killing of the Guardia Civil officers last year.
The two plain-clothed officers, Raul Centeno, 24, and Fernando Trapero, 23, had been taking part in surveillance with French police in southwestern France when they were shot outside a cafe.
Spanish Interior Minister Alfredo Perez Rubalcaba said two recently arrested suspects had identified Txeroki as the gunman.
"He was responsible for all the commandos and he coordinated all the attacks," he said.
Researcher Jean Chaldivant, author of a book on the group, called Txeroki "a key lynchpin of ETA ... who chose which attacks to carry out, chose the members of the teams and trained them."
"He was a charismatic leader, close to and adored by his troops. He was one of them, not a political cadre," he said, describing Txeroki driving cell members to the Franco-Spanish border and awaiting their return after attacks.
ETA, which has killed more than 820 people in its 40-year campaign for an independent Basque homeland, claimed responsibility for the December 1 attack in a statement issued two weeks later.
France, once a safe haven for Basque militants, has arrested a number of ETA suspects since the group called off a 15-month-old ceasefire in June 2007, shattering hopes of a peace settlement.