PARIS, Aug 9, 2010 (AFP) - The Bank of France forecast on Monday that the French economy would expand by 0.3 percent in the third quarter, following growth of 0.4 percent in the previous quarter.
The French statistics bureau INSEE is expected to publish on Friday its growth figures for the second quarter.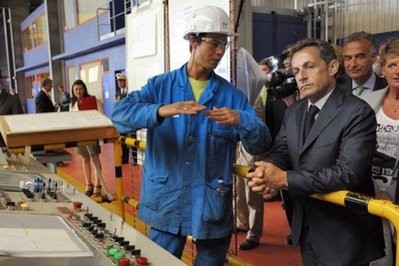 French President Nicolas Sarkozy (R)listens to a worker during a visit to the Saint Nazaire STX shipyard in July. AFP file
In June, INSEE said that gross domestic product (GDP) would expand by 0.5 percent in the second quarter, a boost for the economy which showed weak growth of 0.1 percent in the first quarter.
The rebound should continue "at a slow pace" with quarterly growth in the order of 0.4 percent in the second half of 2010, INSEE said.