France will wake up to a tough new anti-tobacco law that bans smoking in workplaces, schools, shops and hospitals and sets the clock ticking for a total prohibition including cafes and bars in less than a year.
From midnight January 31 it became illegal to smoke "in all enclosed and covered places which take in the public or which constitute places of work", with fines of 68 euros (88 dollars) for individuals and 135 euros for companies that disobey.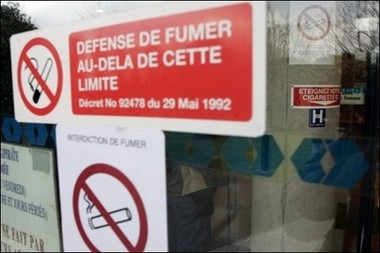 No-smoking signs on windows at Jean Verdier hospital in Bondy, outside Paris.
The overnight change comes as a major nuisance to millions who have grown used to lighting up in office corridors, common rooms and stairwells, and must now take their habit onto the street.
However it is only a foretaste of the huge culture shock in store for January 1 2008, when France joins the growing number of European countries that outlaw smoking in restaurants, bars, discotheques and other places of entertainment and relaxation.
Under existing laws dating from 1991 all public places are already supposed to set aside separate areas for smokers and non-smokers, but in practice the rule has been only sporadically enforced.
From Thursday smoking will only be permitted in establishments that build hermetically-sealed smoking rooms, equipped with powerful extractor fans, but few are expected to make the investment.
Otherwise places considered "home substitutes" such as hotel rooms, prison cells and private rooms in retirement homes will be immune from the ban, and the government has said it will look leniently on psychiatric patients and those struggling to give up drug addiction.
The government has also undertaken to contribute via the national health insurance system to the costs of treatments to help stop smoking.
Some 175,000 state employees have the right to issue fines, including police officers, transport staff, medical, sanitary and work inspectors -- though some unions have said they will refuse to act as enforcers.
"There could well be fines if there are people who refuse to cooperate. But I am very confident. Smokers are increasingly understanding, non-smokers are increasingly determined, and above all there has been a striking change in attitudes," said Health Minister Xavier Bertrand.
Widely seen abroad as a country of die-hard puffers in the mould of Sartre and Belmondo, France is in fact firmly in the European mainstream -- with its 26.1 percent of "daily smokers" slightly lower than the 25-state EU average of 26.5, according to figures from Brussels.
The French government puts the number of smokers -- including occasional users -- at 15 million, or 33 percent of the population over the age of 12, with almost one in two in the 20-25 age bracket indulging the habit.
Latest figures showed a worrying slight rise in smoking, after several years of decline, largely thanks to a greater take-up among young women. The health ministry says 66,000 people die of smoking-related diseases every year, with passive smoking accounting for between 3,000 and 5,000 lives.
Ireland was the first EU country to introduce a complete ban on public smoking, and Britain is to follow suit in July. Italy, Malta and Sweden have partial bans which allow smoking in sealed-off areas.
Smoking policy in the 27-member bloc is decided by individual member governments, but the EU's executive in Brussels has indicated it would welcome steps towards pan-European norms.