French authorities were working Saturday to free a luxury cruise yacht and its 30-member crew taken hostage by pirates off the coast of Somalia.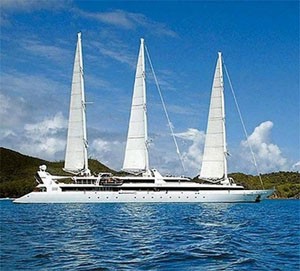 This undated picture released by the French shipping company CMA-CGM shows the French luxury yacht "Le Ponant." Pirates boarded a French luxury cruise yacht off the coast of Somalia and took its entire 30-member crew hostage on Friday, the French military and the ship's owner said.(AFP/HO)
"The defence and foreign affairs ministries are working to act as quickly as possible, I hope in the minutes or hours to come, to try to obtain the release of the hostages," French Prime Minister Francois Fillon said late Friday.
"We have relatively large military means in the area," he added.
The 32-cabin, four-deck yacht the Ponant, was sailing between Somalia and Yemen when it was boarded by pirates on Friday.
The three-masted yacht was carrying 30 crew but had no passengers on board at the time, according to a French military spokesman.
"As far as we know, no shots have been fired," said the spokesman, Christophe Prazuck.
France, which has its largest foreign military base in nearby Djibouti, flew a helicopter over the ship on Friday.
French military forces in the area and a Djibouti-based United States-led multinational force, Combined Task Force 150, "were able to confirm the situation and are following its evolution," said Prazuck.
Pirate attacks are frequent off Somalia's 3,700-kilometre (2,300-mile) coastline, prompting the International Maritime Bureau to advise sailors not to come closer than 200 nautical miles to its shore.
The French navy has been called on in recent months to escort World Food Programme boats through Somali waters, after two of the agency's boats were stolen.
French shipping group CMA-CGM confirmed one of its boats had been seized in the Gulf of Aden, on its way from the Indian Ocean's Seychelles islands to the Mediterranean, and that a "majority" of the crew were French.
"The ship is indeed the Ponant, property of the CMA-CGM group. We were informed that there were pirates on board," a company spokesman said.
In a statement, the group said it was "working closely with the foreign ministry. The French authorities are handling the situation."
It said it did not want to give further information "to avoid endangering its crew taken hostage."
While Somali pirates have mostly targeted cargo vessels, some 600 sea-borne European tourists narrowly avoided being boarded in November 2005.
"You're looking at a powerful maritime mafia," said Olivier Hallaoui, of French security specialists Secopex.
"Most are fishermen-turned-bandits, with links to clans, local militias who realise this is a lucrative business because in almost every case ransoms are paid.
"They are equipped with GPS satellite and modern communications systems as well as heavy arms. Above all, they open fire without warning," he added.
The 850-tonne Ponant, equipped with lounges, bar and restaurant, had been due to host a cruise between Alexandria in Egypt and Valletta in Malta on April 21-22, its owner said.
The ship is one of three owned by the Marseille-based cruise operator Compagnie des Iles du Ponant, which presents itself as France's leading cruise provider.