PARIS (AFP) – France's most politically-charged trial in years is to begin on Monday with former prime minister Dominique de Villepin accused of plotting to smear Nicolas Sarkozy before he became president.
Dubbed the trial of the decade, the judicial drama features a Who's Who cast of big names in politics, industry and intelligence circles, beginning with Sarkozy, who is a civil plaintiff in the case.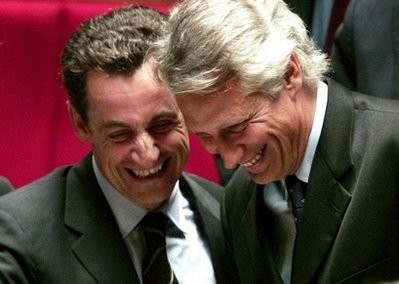 File photo shows Dominique de Villepin (R) with Nicolas Sarkozy at the National Assembly (AFP file)
The 55-year-old Villepin is accused of conspiring to slander Sarkozy in 2004 when the pair were waging a fierce battle to win the right-wing party nomination and succeed president Jacques Chirac.
The trial of the so-called "Clearstream affair" is shaping up as a showdown between Villepin and Sarkozy, whose mutual hatred is legendary in French political circles.
But the month-long hearings before the Paris criminal court could also cast light on the murky dealings of French intelligence and at one of the world's top aerospace companies, EADS.
The case centres on a list -- later proved to have been fabricated -- of account holders at the Clearstream financial clearing house who allegedly took bribes from the sale of French frigates to Taiwan.
One name on the bogus list was that of Sarkozy, the ambitious minister who suspects Villepin, Chirac's chosen heir, of planning to use the fake document to try to torpedo his presidential bid.
Villepin has denied any wrongdoing and faces up to five years in jail and a 45,000-euro (66,000-dollar) fine if convicted.
A suave diplomat whose stirring speech against the US invasion of Iraq in 2003 drew applause at the United Nations, Villepin is accused of complicity in slander and in use of forgeries, dealing in stolen property and breach of trust.
Ahead of the trial, the grey-haired former prime minister and foreign minister has waged a media offensive, accusing Sarkozy of playing the victim in the Clearstream affair to serve his own power-crazed agenda.
But Sarkozy insists he merely wants the truth to come out.
"I've always said that I wanted to know who put my name on that list and why," he said earlier this month. "It is high time that we get rid of all of these political manoeuvrings, once and for all."
Villepin's four lawyers will ask the Paris court on Monday to remove Sarkozy from the list of civil plaintiffs, arguing that his status as president seriously undermines their client's right to a fair trial.
Sarkozy registered as a plaintiff in 2006 to gain access to the case files and secure his right to seek damages as have 39 others including Dominique Strauss-Kahn, now the head of the International Monetary Fund.
Judges are expected to take several months to reach a verdict after the trial ends on October 23.
Four other defendants also face charges in the case.
EADS ex-vice president Jean-Louis Gergorin, a former Villepin associate, has admitted to leaking the bogus list to investigators in 2004.
Imad Lahoud, a computer expert and ex-EADS employee has reportedly confessed to falsifying the list with Villepin's knowledge.
Management consultant Florian Bourges is accused of stealing Clearstream documents and journalist Denis Robert, who broke the story, is charged with dealing in stolen property.
Among the star witnesses are several former spymasters including Yves Bertrand and General Philippe Rondot, whose notes -- seized by investigators -- detail secret meetings with Villepin.
Villepin himself is expected to take the stand next week, defending himself in the exact Paris courtroom where Marie Antoinette was sentenced to the guillotine in 1793.