PARIS, Nov 14, 2010 (AFP) - President Nicolas Sarkozy re-named Francois Fillon prime minister of France on Sunday, just hours after his government resigned to clear the decks for an imminent reshuffle.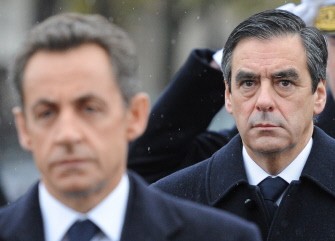 (AFP FILES) A file picture taken on November 11, 2010, in Paris, shows French President Nicolas Sarkozy (C) and Prime Minister Francois Fillon.
Fillon handed Sarkozy his resignation on Saturday, a traditional formality to allow the head of state to reorganise his ministerial team. Following his rapid re-appointment, a new cabinet is to be named later Sunday.
"In accordance with article eight of the constitution, the president has named Mr Francois Fillon prime minister. The president has asked the prime minister to propose a new government," said an Elysee Palace statement.
Sarkozy is languishing in the opinion polls with a personal approval rating of around 30 percent, and is looking to the reshuffle to reinvigorate his team with a view to launching his un-declared 2012 re-election bid.
Opponents have mocked the exercise as a cosmetic change to the line-up of ministers defending Sarkozy's long-standing policies.