SYDNEY, Sept 24, 2009 (AFP) - Australia cleared up on Thursday after the worst dust storm in decades which smothered Sydney and cost an estimated tens of millions of dollars in lost productivity.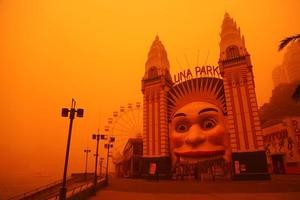 Sydney's Luna Park is bathed in an orange glow as a giant cloud of red dust blows through New South Wales. Photo / Getty Images
Residents cleaned grimy cars and windows under clear skies a day after millions of tonnes of dust blew in from the desert Outback, forming an eerie red dawn in Sydney and caking the city in orange powder.
Health experts said the danger from record air pollution had passed but industry groups pointed to heavy economic damage in lost working hours and precious agricultural topsoil.
The dust storm forced the closure of Sydney construction sites and played havoc with air travel, with international flight diversions causing long delays.
"I think it's tens of millions of dollars," said Mark Goodsell from the Australian Industry Group, referring to economic losses.
The airport delays "would cost millions and much of the building industry shut down for the day -- that's expensive. Then there's absenteeism and lost revenue in hospitality.
"There's also a big clean-up. Everybody's got to clean their houses, including people like me who left their windows open."
The storm reportedly dumped millions of tonnes of dust over New South Wales, Australia's most populous state, before heading north to Queensland in a plume which stretched 1,500 kilometres (932 miles) long and 400 kilometres wide.
Strong winds following the hottest August on record sucked up dust from a decade-long drought in what experts said was the biggest such incident to hit Sydney since 1942.
Weather bureau official Mike De Salis said eastern Australia was probably set for more dusty days in the coming weeks, but nothing on this scale.
"It was very unusual," he told national news agency AAP. "There is a chance, a good chance of hazy days, of dust haze with visibility around four or five kilometres."
Newspaper front pages showed pictures of Sydney bathed in an unearthly red glow and reflected on bizarre scenes which sent commuters scurrying to work in surgical face-masks.
"Doomsday," said the Daily Telegraph, while the Sydney Morning Herald called it, "The day the country blew into town."
"It wasn't, as the saying goes, a good laundry day," a Telegraph editorial said.
"Sydney's great dust storm of 2009 will take its place alongside other long-remembered weather events, including the massive ice storm of 1999 and a wind storm in 1991 that caused 670 million dollars (587 million US) in damage."
The freak weather, which also rained large hailstones over New South Wales and formed a mini-tornado near Canberra, coincided with a pair of minor earthquakes in Victoria and 21 bush fires in Queensland.