MIAMI, Sept 8, 2009 (AFP) - Fred, a powerful storm in the eastern Atlantic, reached hurricane strength late Tuesday, US meteorologists at the National Hurricane Center said.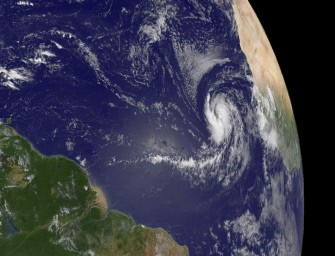 This September 8, 2009 NOAA-NASA GOES Project colorized satellite image shows Tropical Storm Fred. Fred strengthened early Tuesday in the eastern Atlantic and threatened to grow into a hurricane in coming days, US meteorologists said. (AFP photo)
At around 0300 GMT Wednesday, the storm was centered about 445 miles (715 kilometers) west-southwest of the southernmost Cape Verde Islands, said the Miami-based NHC.
The storm, only the second hurricane-strength storm of the current Atlantic hurricane season, is moving in a west-northwesterly direction at about 12 miles (19 kilometers) per hour.
Fred is a category one storm, with maximum sustained winds at about 75 miles (120 kilometers) per hour.
This year's Atlantic hurricane season, which began on June 1 and ends November 30, has seen a handful of tropical storms but just a single major one, Hurricane Bill, which grazed the US east coast and eastern Canada last month.