A French court granted a conditional release from jail to former Panamanian leader Manuel Noriega on Friday, paving the way for him to be extradited to Panama to serve a 20-year prison sentence for human rights crimes.
Noriega, 77, who was ousted in a 1989 US invasion, has been jailed in France on a seven-year sentence for money-laundering after serving 20 years in US prison for drug trafficking, money laundering and racketeering.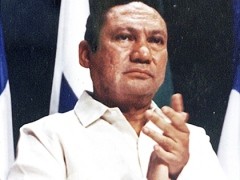 Panamanian ex-dictator Manuel Noriega
Panamanian media have reported that special cells have been prepared for him at a penitentiary near Panama City. A law in Panama lets prisoners above the age of 70 serve sentences under house arrest, although this is subject to a judge's approval.
His French release will be effective on October 1, Noriega's lawyer Yves Leberquier said, although this could be delayed by a second extradition request filed by Panama relating to separate criminal charges.
France had informed Noriega on July 29 that he would be extradited to Panama, where he has been sentenced to three 20-year sentences for killings during his dictatorship that will be served concurrently, according to his lawyer.
Leberquier said Noriega is keen to return to Panama as soon as possible.
"We want the first extradition request to be executed and we are asking the prosecutor to proceed with it," he said.
Born into poverty, Noriega muscled his way to the top of Panama's military and became the Central American country's de facto ruler until the 1989 invasion, when he was caught by US troops, flown to the United States and tried in a Miami court.
After serving 20 years in US prison he was sent to France, where he had been sentenced in absentia in 1999 to seven years in jail for laundering money in French bank accounts and properties in the 1980s.