TEHRAN, Aug 8, 2009 (AFP) - A French lecturer and two Iranian employees of the British and French embassies were in the dock on Saturday alongside others detained during protests over the re-election of Mahmoud Ahmadinejad, sparking anger in London and surprise in Paris.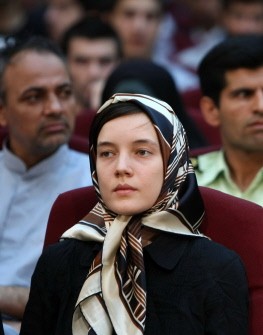 Detained French lecturer Clotilde Reiss (L), Iranian journalist Ahmad Zeidabadi (C-L) and Iranian secretary of cultural section at the French embassy in Tehran, Nazak Afshar (back-R), attend a second hearing at a court in Tehran on on August 8, 2009 (AFP photo)
Clotilde Reiss, who turned 24 in prison on July 31, was arrested on July 1 as she tried to fly out of Iran after a study trip.
"She is accused of collecting information and provoking rioters," the official IRNA news agency reported. Fellow defendant Nazak Afshar, who works in the French embassy's cultural section, was detained on Thursday.
Iran's state television said the two played an "active role in the unrest by giving information to foreign embassies."
IRNA said Reiss had reported on post-election protests in the central city of Isfahan to the French embassy in Tehran.
"I have written a one-page report and submitted it to... the cultural department of the French embassy," the news agency quoted her as telling the trial judge.
Afshar told the court that she and other staffers had been told to offer shelter to protesters if required, IRNA said.
"In the event that confrontations occurred in front of the cultural department of the embassy, we were told to offer refuge to protesters if they asked," it quoted her as saying.
Also in the dock was British embassy local staffer Hossein Rassam who was detained during the post-vote violence in Tehran along with eight embassy colleagues. They were later freed, he was released on bail.
IRNA said he has been accused of spying.
"Based on the order of British embassy, the local staff were asked to be present in the riots along with Tom Burn and Paul Blemey (eds: spellings as transliterated from Persian)," Rassam said of two British diplomats expelled by Iran in June.
"You along with Arash Momenian were given the duty of meeting representatives of political groups, ethnic and religious minorities, and student groups and to relay the news of Iran's riots to London," IRNA quoted the prosecutor as telling the court.
The judge said the allegation merited a charge of espionage.
"Based on the charges read out by the Tehran prosecution, you are accused of spying for foreigners," the judge was quoted as saying by IRNA, which identified him by only the single name Salavati.
In London, a Foreign Office spokeswoman called Rassam's trial "this latest outrage."
"This is completely unacceptable and directly contradicts assurances we had been given repeatedly by senior Iranian officials," she said.
"Our ambassador in Tehran has demanded early clarification of the position from the Iranian authorities. We will then decide on how to respond to this latest outrage."
Reiss was initially accused of spying because she took a photograph of an opposition demonstration in the central city of Isfahan and emailed it to a French friend in Tehran.
It was the second hearing in the trial of a number of key reformist politicians and journalists, the ISNA news agency said.
Their new hearing had been due on Thursday but was changed to Saturday after defence lawyers asked for more time to study the charges.
Another 10 protesters were put in the dock in a separate trial on Sunday.
Both Ahmadinejad's main challenger Mir Hossein Mousavi and reformist former president Mohammad Khatami have denounced the trials.