French authorities deployed 1,000 police to a northern Paris suburb Tuesday to prevent a third night of youth riots amid signs that the violence could be spreading.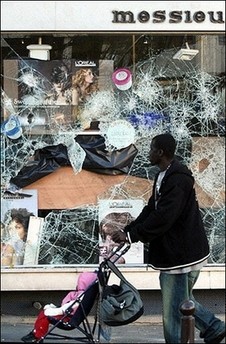 A man walks near the broken window of a shop in Villiers-le-Bel, outside Paris (Photo: AFP)
French Prime Minister Francois Fillon went to Villiers-le-Bel, where the deaths of two teenagers Sunday touched off two nights of violence in which at least 120 police were injured -- the worst unrest in the restive suburbs since major riots in 2005.

"The situation is much calmer than the two previous nights but we can all feel that it remains fragile and it requires a strong deterrent force on the ground to stop what happened last night from reoccurring," he said.

"The government will do all it can to ensure that order returns as soon as possible," he said.

There were signs the violence had spread outside the Paris region when about 20 cars were set on fire in the southern city of Toulouse, and a fire broke out in a library.

Youths threw petrol bombs at police west of Paris in Les Mureaux, where eight minors were detained for trying to set fire to a bus.

Twenty-two people were detained in Villiers-le-Bel, police said.

For two nights running, young men have hurled petrol bombs and bricks at police, torching cars and buildings in Villiers-le-Bel, where the two youths were killed in a motorbike collision with a police car.

Police said some rioters had fired guns at police and one union said the youths were using "urban guerrilla" tactics.

Faced with the worst eruption of urban violence since the 2005 disturbances, Fillon vowed a beefed-up security presence and promised to "do everything" to stop the violence from spreading across the Paris area.

"Those who shoot at policemen, those who beat a police officer almost to death are criminals and must be treated as such," he told parliament.

Returning from a state visit to China, President Nicolas Sarkozy was to chair a special meeting on the unrest Wednesday and receive the families of the dead teenagers at the Elysee palace.

The clashes on Monday night left a supermarket, a nursery school and three other buildings gutted by fire and 63 cars torched. Two dozen people have been detained to date.

Police unions said the violence was worse than rioting in cities across France in late 2005 -- also sparked by the deaths of two youths.

Some 120 officers have been injured, four of them seriously, police said. By comparison, 200 officers were injured in three weeks of rioting in 2005.

"Two things are cause for anxiety: signs the violence is spreading to neighboring areas, which have already had their share of burned cars, and the almost systematic use of firearms against police," said Douhane Mohamed of the Synergie police union.

An initial investigation appeared to confirm the police version of Sunday's deaths, according to which the two teenagers -- aged 15 and 16, neither wearing a crash helmet -- were riding a motorbike that careered into the police car.

But relatives of the two youths and some other local people appeared convinced the police had caused the accident and fled the scene without treating the victims.

Some 200 people staged a silent march late on Tuesday in Villiers-le-Bel in the youths' memory.