Police in France arrested the suspected military chief of the armed Basque separatist group ETA, Alejandro Zobaran Arriola, Spanish national radio reported.
He was among four ETA suspects held in an operation by French police in northeast France, the radio said, quoting anti-terrorist sources.
Zobaran is the "new military chief of ETA," it said.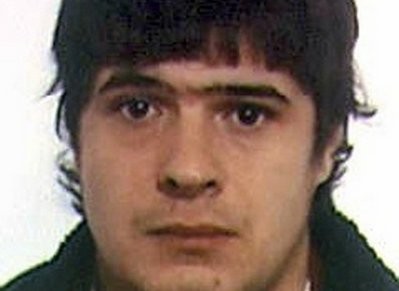 This undated handout picture released by Spanish Police shows suspected military chief of the armed Basque separatist group ETA, Alejandro Zobaran Arriola.
French sources close to the operation earlier confirmed that four suspected ETA members had been arrested in the Pas-de-Calais region.
"Their identity and their importance" in the organisation "cannot be confirmed," they said.
The sources did not reveal the exact location of the operation, but leading Spanish daily El Pais said on its website the arrests had taken place in the small northeastern town of Willencourt, west of the city of Arras.
The four were detained in a house where firearms and documents were seized, said the sources, who added that the operation was continuing overnight.
El Pais said the four men had been followed by police for several days before they were arrested at around 9:00 pm (2000 GMT) on Thursday.
It said they had arrived at the house in two vehicles where they had asked to stay, saying they were students.
But the owner was suspicious and called police who determined that one of the cars had false plates. Spanish police had also determined that they had false identity documents.
If the arrests are confirmed, Zobaran would be the sixth ETA leader arrested since 2008.
Spanish media said he has led the ETA military apparatus since May 2010, when Mikel Karrera Sarobe, then its most senior commander still at large, was seized in the southwestern French town of Bayonne.
It said Zobaran was previously part of the ETA 'Donosti' commando cell, which targeted Spanish buildings such as offices, post offices and banks.
ETA is blamed for the deaths of 829 people in its four-decade campaign of bombings and shootings to force the creation of a Basque homeland in northern Spain and southwestern France.
Traditionally, ETA used France as a safe rear-base for attacks on Spain, but in recent years the two EU allies have strengthened cross-border police cooperation and cracked down hard on the group.
So, while ETA has not carried out any attacks on Spanish soil since August 2009, its cells are under increasing pressure in France.
ETA declared on January 10 a "permanent and general ceasefire" to be verified by the international community, its first unilateral declaration of a permanent ceasefire.
Spain's Prime Minister Jose Luis Rodriguez Zapatero rejected the ceasefire declaration, saying he wanted nothing less than ETA's dissolution, and the authorities have vowed to hunt down ETA members.
Since then, according to Spanish media reports, 33 ETA suspects have been detained.
Four of them were held by in Spain's Basque Country on March 1 by police who also seized about 200 kilogrammes of explosives.
ETA had announced a ceasefire in March 2006 within the framework of negotiations with Madrid. But nine months later, it set off a bomb in the car park of Madrid's airport, killing two men.
ETA's outlawed political wing Batasuna is desperate to get back into politics in time for Basque municipal elections in May.
Basque nationalists launched a new pro-independence party on February 7, rejecting violence by any group including ETA.
But a police report obtained by the press last month said the new party was under ETA's "direct control," a finding that could lead the courts to rule it illegal.