PRASAT, Thailand (AFP) – Cambodian and Thai troops exchanged heavy weapons fire for the third straight day on Sunday, officials from both countries said, after clashes on their joint border left 10 dead.
Thousands of civilians have fled both sides of the disputed jungle frontier because of the fighting, which shattered a tense two-month lull in hostilities.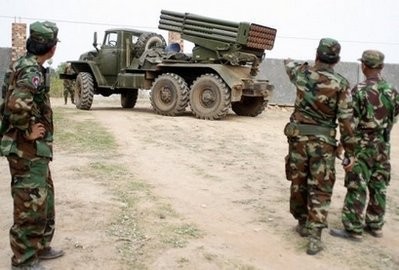 AFP - Cambodian soldiers prepare a rocket launcher near the Thai-Cambodia border in Oddar Meanchey province
UN Secretary-General Ban Ki-moon has called for a ceasefire and said the neighbours should launch "serious dialogue" to resolve the dispute, according to a spokesman on Saturday.
Thai villagers sheltering in makeshift tents in Prasat district, Surin province, told how they raced from their homes in fear when clashes began in the neighbouring border district of Phanom Dong Rak on Friday.
"First I thought it was a military exercise, but when a shell fell next to my house, I knew I had to run away," said Somjai Lengtamdee from Baan Khaotoh village.
"I was so worried about my three children. We were separated and it took me all day to locate them all. I still don't feel safe here at the camp. I can only hope that the war ends soon. I'm so scared," added the 37-year-old.
Somdee Suebnisai, a local administrative officer for Phanom Dong Rak said there were 16 camps in the area providing refuge to more than 18,000 people and the number was expected to rise to 20,000 by Sunday evening.
Heavy shelling was fully audible 20 kilometres (12 miles) from the fighting on the Cambodian side early Sunday, according to an AFP photographer, as those evacuated from their homes took refuge in schools and temples away from the clash.
Six Cambodian troops and four Thai soldiers have been killed since fighting restarted on Friday.
Both countries have accused each other of sparking the violence, which is the first serious outbreak of fighting since February, when 10 people were killed in clashes near the 900-year-old Hindu temple Preah Vihear.
The latest clashes have taken place near a different group of temples more than 100 kilometres away from Preah Vihear.
A statement from Cambodia's ministry of defence accused Thai forces of firing hundreds of heavy weapons into civilian areas and attempting to occupy the Ta Moeung temple in the area.
Thai military officials gave a special television address Sunday afternoon to rebut the claims and argue that Cambodia had fired first after trying to "seize" temples at the site.
"We have responded with machine guns and artillery, not gas or an invasion of Cambodian airspace," said Thai army spokesman Sunsern Kaewkumnerd, responding to earlier Cambodian claims that Thailand used "poisonous gas" and flew aircraft "deep into Cambodia's airspace".
Thailand recently admitted using controversial Dual Purpose Improved Conventional Munitions, designed to burst into bomblets, during the February fighting but insisted it did not classify them as cluster munitions.
Prime Minister Abhisit Vejjajiva said Thailand was willing to hold bilateral talks and accused Cambodia of trying to "internationalise" the conflict.
Phnom Penh has asked for outside mediation to help end the standoff, but Thailand opposes third-party intervention.
The two countries agreed in late February to allow Indonesian observers in the area near Preah Vihear, but the Thai military has since said they are not welcome and they have yet to be deployed.
Indonesia, which holds the rotating chairmanship of the Association of Southeast Asian Nations regional bloc, has called for an immediate end to the violence.
Ties between the neighbours have been strained since Preah Vihear -- the most celebrated example of ancient Khmer architecture outside Cambodia's Angkor -- was granted UN World Heritage status in July 2008.
The World Court ruled in 1962 that the temple belonged to Cambodia, but both countries claim ownership of a 4.6 square kilometre (1.8 square mile) surrounding area.