TRIPOLI (AFP) – Fresh NATO air raids shook Tripoli early Thursday as the United Nations accused both Libyan leader Moamer Kadhafi's regime and rebel forces of committing crimes against humanity in their 15-week conflict.
A series of six blasts at around 12:35 am (2235 GMT Wednesday) were followed by several more a few minutes later in the Libyan capital, the target of NATO air raids for more than a week now, an AFP correspondent reported.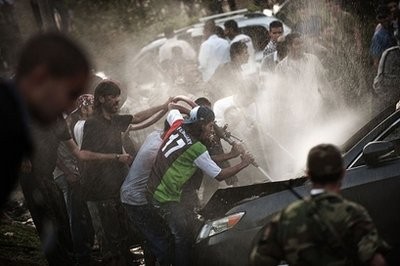 AFP - Libyans douse burnt cars following a blast in the parking lot of the Tibesti hotel, used by rebel leaders, diplomats and journalists, in the eastern rebel stronghold of Benghazi.
NATO warplanes carried out raids late Monday and Tuesday on Tripoli, the suburb of Tajura and Al-Jafra, 600 kilometres (370 miles) to the south.
Government spokesman Mussa Ibrahim said Tuesday that NATO air raids on Libya had killed 718 civilians and wounded 4,067 since they were unleashed on March 19 and up to May 26.
Libyan Oil Minister Shukri Ghanem meanwhile became the latest member of Kadhafi's regime to resign, saying in Italy that he had left Libya to join the uprising against his former boss and "fight for a democratic country."
On the ground in Libya, a huge car bomb rocked a major hotel Wednesday in Benghazi, the Libyan rebels' capital in the east of the country, but caused no casualties, witnesses and police said.
A commission of inquiry set up by the UN Human Rights Council in Geneva accused Kadhafi's regime of carrying out systematic attacks on the population, saying that it committed not only crimes against humanity but also war crimes.
While it found fewer reports of violations by the opposition, the commission also said rebel forces committed acts that constituted war crimes.
The commission has "reached the conclusion that crimes against humanity and war crimes have been committed by the government forces of Libya," it said in a statement.
"The commission received fewer reports of facts which would amount to the commission of international crimes by opposition forces, however, it did find some acts which would constitute war crimes."
The 47-member UN Human Rights Council set up the investigation into suspected crimes against humanity in February after Kadhafi's regime dispatched Libya's army and air force to fire on civilians.
Hours after NATO-led aircraft launched new raids on Tripoli early Wednesday, ambassadors of the military alliance meeting in Brussels decided to renew the mission for another 90 days to late September, giving individual nations time to prepare their contributions.
"This decision sends a clear message to the Kadhafi regime. We are determined to continue our operation to protect the people of Libya," said NATO Secretary General Anders Fogh Rasmussen.
"We will keep up the pressure to see it through."
NATO, whose current campaign expires on June 27, has intensified its air raids in recent weeks with daily strikes on command and control bunkers in Tripoli to prevent Kadhafi from crushing a revolt that began in mid-February.
Oil minister Ghanem, the head of the state-run National Oil Corporation (NOC), told journalists in Rome that he had joined the rebellion, following weeks of rumours and denials about his defection.
"I can't work in this situation so I have left my country and my job to join the choice made by young Libyans to fight for a democratic country," he said as he spoke of a possible "peaceful solution" to the conflict.
Libya's longtime representative at the OPEC oil cartel said his country was "moving towards a total block on oil production."
Italy's foreign ministry denied any role in arranging Ghanem's presence in the country but welcomed the announcement, after eight Libyan military officers this week announced their defection at a press conference in Rome.
NATO'S Rasmussen told reporters in Brussels that Kadhafi's departure is only a question of time.
"The question is not if Kadhafi will go but when," Rasmussen said. "It could take some time yet but it could also happen tomorrow."
At a news conference in Tripoli, however, Ibrahim warned the departure of Libya's veteran leader would be a "worst case scenario" for the country and could trigger "civil war."
"If Kadhafi goes, the security valve will disappear," he said.
Two cars were destroyed in the Benghazi explosion in the parking lot of the Tibesti hotel used by rebel leaders, diplomats and journalists, an AFP correspondent said.
The rebels' National Transitional Council blamed the huge car bomb blast on forces loyal to Kadhafi.
"This act of terrorism shows, once again, the irresponsible and criminal nature of Kadhafi's regime," NTC chairman Abdul Jalil said in a statement as he vowed to take "all measures" to bring the perpetrators to justice.
A police officer said a bomb was detonated in one car and the blast damaged a second car parked next to it. There were no immediate reports of injuries.