The Brazilian military has sent troops and helicopters to rescue stranded survivors of floods and landslides that killed more than 625 people but the operation was stymied by more bad weather.
After rains resumed in the afternoon, the air force had to call back helicopters that had been sent as a lifeline to 80 people stranded since Wednesday in the village of Brejal, in the mountains near Rio de Janeiro, a spokesman said.
"The weather conditions do not permit us to advance in the rural areas and to help people who are isolated," said Rio firefighter Colonel Pedro Machado. "We can only make short flights. The teams on the ground are also having a lot of difficulty."
The military had hoped to evacuate people in hamlets cut off by rivers of water and mud that carved massive destruction in the Serrana region just north of Rio de Janeiro.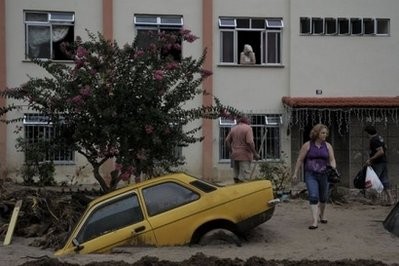 A car is encased in sand amid a flood-hit street in Nova Friburgo, Rio de Janeiro on January 16, 2011
Bodies buried under rubble and sludge would have to wait until teams with heavy equipment could get to the communities, something that could take days because roads were destroyed.
Soldiers, civil defense workers, police and rangers were seen gathering in Nova Friburgo, reinforcing teams that so far have pulled 283 bodies from decimated parts of the town.
General Oswaldo de Jesus Ferreira, coordinating the military response, told O Globo newspaper that the 500 troops sent to the Serrana would not only recover bodies but also clear roads and distribute food.
The military had 38 vehicles, including two ambulances, and 11 helicopters based out of Teresopolis, another hard-hit town where 268 people died.
Although the toll Sunday stood at 626 dead, workers transporting bodies said they feared the overall count will rise as rescuers reached outlying hamlets.
"I think in the end we'll see more than 1,000 bodies," said a funeral worker in Teresopolis, Mauricio Berlim. "In one village near here, Campo Grande, there were 2,500 homes and not one is left standing."
President Dilma Rousseff has declared three days of mourning, while Rio authorities said their state will observe a full week of mourning starting Monday.
At least 14,000 people have been made homeless, officials said, and Rio governor Sergio Cabral declared a state of emergency in seven municipalities.
Authorities made an urgent appeal for donations of blood, bottled water, food and medicine, and for medically trained people to help.
At least four refrigerated trucks were parked in front of a makeshift morgue inside a Teresopolis church to take bodies as decomposition and disease became concerns.
The disaster, which media called the worst tragedy of its kind in Brazil's history, struck sleeping families Wednesday before dawn.
Seasonally heavy rains were suddenly intensified by a cold front, dumping a month's worth of precipitation in just eight hours, causing torrents of water and mud that wiped out everything in their path.
Water, food and electricity were still lacking in some areas of the Serrana four days after the disaster, with authorities struggling to deliver supplies over fully or partially collapsed roads. Telephone communications were unreliable though progressively being restored.
A municipal official in Teresopolis, Solange Sirico, told Brazilian television there was a risk of epidemics breaking out as bodies decomposing in the tropical heat mingled with water runoff.
"Also, in all the mountain region, there is a danger of snakes, scorpions and spiders," she added.
Forecasters warned that the wet weather was likely to last for a few more days.
"We are predicting a light but steady rain, which is not good because it could lay the conditions for more landslides," said the head of the national weather institute, Luiz Cavalcanti.
Nova Friburgo, founded by the Swiss in 1819, and has ongoing close ties with Geneva. Swiss officials said a team of expert relief workers was due to arrive later in the Brazilian community to assess the community's urgent needs.
Meanwhile, animal rights activists and veterinarians on Sunday were carrying out efforts rescued efforts to save critters stranded by the flooding.
Veterinarian Margarida de Oliveria told AFP that the effort aimed to rescue including dogs, cats, and horses, and said an animal field hospital would be set up in the affected region on Monday.
Solange Ribeiro of the World Society for the Protection of Animals (WSPA), said the need is dire.
"We know there are many animals living in deplorable situations... abandoned without food, and with injuries. We know the priority is to save lives of humans, but we will not abandon them," she said.