LONDON, April 29, 2011 (AFP) - Clutching Union Jack flags, they came from all over the world, rising before dawn or camping overnight to secure their spot for the royal wedding and show their love for William and Kate.
"They are the most glamorous and classy couple. They are a new face for the monarchy," gushed Katie Oresko, a student from Chicago who joined hundreds of thousands of well-wishers lining the wedding procession route through London.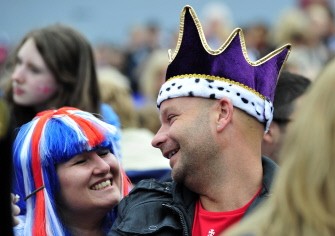 AFP - Royal supporters wait at Trafalgar Square along the processional route on the day of the wedding of Britain's Prince William and Kate Middleton, on April 29, 2011, in central London.
"I wish I were Kate but just for the day. I don't want to become a queen, but it's every girl's dream to become a princess," sighed her friend Kate More, 20, donning a paper crown as she joined the crowd outside Buckingham Palace.
Outside Westminster Abbey, where some royal fans had been camped out since Monday, the road was packed with well-wishers hoping to see Kate enter in her bridal gown, and then come out with her new husband on her arm.
Haytham Khalaf, a 35-year-old university researcher from Jordan, said the wedding was a "once in a lifetime" event, adding: "I could have watched it on TV but up close it is so much better. And you meet people too."
Many of the millions of enthusiasts expected on Friday were on The Mall, the wide tree-lined avenue leading to Buckingham Palace down which the newlyweds will travel in a horse-drawn carriage after the ceremony.
They will appear for the first time as husband and wife on the palace balcony, and are expected to treat the crowds to a kiss.
Australian Sam Harburg, 27, dressed in a pink tie and dark blue jacket, arrived with a friend at 4:00 am equipped with a cool box with beer and two bottles of champagne, "one for the procession and one for the royal kiss".
After living in London, he was due to go home this weekend but pushed back his flight so he could join the celebrations. "I can tell my friends in Australia that I was here," he said.
The palace balcony doors opened at one point, sending a roar of excitement across the crowd -- at least those who could see.
"It's hard for short people. I can't see anything!" said Maria Read, 43, standing on a small but very unstable folding chair.
She said her family back home in Brazil had set their alarms for dawn to watch the wedding on television, saying: "We find it beautiful -- it's their wedding but we celebrate it, we are part of the party."
The crowd was a riot of colour -- there were little girls in princess dresses, women sporting paper crowns and plastic tiaras, men in William paper masks and an ocean of red, white and blue Union Jack flags.
One couple came dressed as daffodils, the national flower of Wales, where William and Kate will live after their marriage, while two women wore wedding dresses with signs on their backs saying "It should have been me!".
Outside Westminster Abbey, Kim Ratcliffe, 37, wore a spectacular hat ontop of her blonde hair. "I came prepared just in case they would invite me in!" she said, pushing her two daughters, both dressed as princesses, in their pram.
She came over from Texas with her British husband to watch the wedding, saying: "We love the monarchy -- it is part of history."
Nearby, 21-year-old London student Mina Best said she loved the fact that the couple had met at university like so many other ordinary people.
"They're pretty normal people, genuine people. Not what you would expect from the royal family," she said.
Most in the crowd were hopeful that the marriage would last, unlike William's parents Diana and Prince Charles.
"She's much older than Diana, and much more mature -- and they marry for love. Charles was under pressure from his family," said Sandra Russell, 65, adding: "You know people here, they're still angry at him."
Outside Buckingham Palace, Glynis Jones agreed. The 68-year-old Briton slept out overnight to get a good spot, and had a bottle of champagne ready.
"She is gorgeous, it makes me sick! Their marriage is going to last -- they have known each other for a while. William has learnt from his father."
About 5,500 street parties are expected across Britain on Friday, including in the Scottish university of St Andrews, where William and Kate met, and where about 1,000 people gathered for festivities involving Scottish dancing.
In Bucklebury, the village where Kate grew up up west of London, marquees were set up on the green for a huge party with a hog roast, stalls and games as residents put on a big show for their most famous daughter.