Fugitive Thai ex-prime minister Thaksin Shinawatra has denied he has ambitions to be leader again, but admitted his youngest sister Yingluck, who is challenging for the post, is his "clone".
In a rare television interview at his luxury gated-community home in Dubai, he told the Australian Broadcasting Corporation's "Lateline" programme he was confident his Puea Thai party would win July 3 elections.
But he played down suggestions that his ultimate goal was to once again rule the country.
"My youngest sister is already there, so no need for me to go back as a prime minister," said Thaksin, who was ousted in a 2006 coup and lives abroad to escape a jail term for graft.
"I still want to be a lecturer, that's my dream. Playing golf. Giving guidance for my children -- for their business endeavours. That's what I really want to."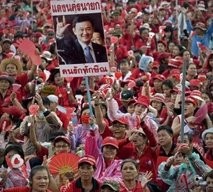 Supporters of exiled Thai former prime minister Thaksin Shinawatra hold placards at a rally in Bangkok
The polls will pit Thaksin's sister Yingluck Shinawatra against his arch-foe, current Prime Minister Abhisit Vejjajiva of the elite-backed Democrat Party, in what is expected to be a closely fought battle.
Recent surveys show Puea Thai pulling ahead in the race with the party posting 43 percent approval to the Democrat Party's 37 percent in a Suan Dusit Rajabhat University poll released on Sunday.
Yingluck, 43, is politically inexperienced and many in Thailand feel her nomination as the opposition candidate for premier confirms Thaksin's central role in the kingdom's political landscape despite living in exile.
Thaksin, hailed by many rural and working class Thais for his populist policies for the masses but loathed by the Bangkok-based elite which sees him as corrupt and authoritarian, admitted he still has clout.
"Well, I may influence in terms of the ideas and thinking because I have more experience than others and then I just want to see them have success," he told the programme which aired late Monday.
"And I just share my experience as former prime minister and the experience of running around the whole world."
But he denied his sister, who is 18 years his junior, was his puppet and that he was pulling the strings.
"No, no, no," he said, instead saying she was his "clone" in terms of having "the same culture, the same background, the same ideas, the same attitude, the same thinking."
"Well, she's my youngest sister. She worked for me from the beginning. So I teach her, I train her, the working habit style is nearly exactly like me," he said.
The photogenic Yingluck has a business background but hardly any political experience. Thaksin said that did not matter.
"She been passing through a lot of experiences even though she is a lady, but the lady is good without political baggage, is good for leading reconciliation," he said.
"Even myself, I didn't have much experience in politics when I jump to prime minister, and she been observing politics through my father as a former MP and through myself as the prime minister."
Yingluck has made clear that an amnesty for those on political charges is a priority, but Thaksin denied her nomination was all about getting his slate wiped clean so he could return to politics.
"No, it's not," he said. "Reconciliation is the priority, not the amnesty. Reconciliation: amnesty may be part of it, but not all.
"In the process, bring back unity of the country. I'm part of that. Then, I might benefit as part of it, but I don't care much because I'm quite settled outside."