A special court in Lima on Tuesday convicted Peru's former president Alberto Fujimori of "crimes against humanity" carried out by an army death squad during his 1990-2000 rule, and sentenced him to 25 years behind bars.
But an impassive Fujimori, 70, immediately said he would appealappeal the finding.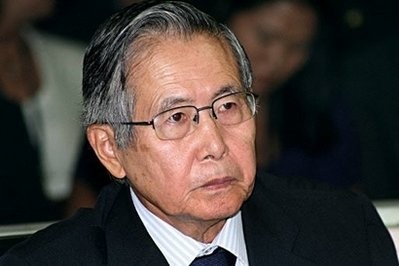 Former Peruvian President (1990-2000) Alberto Fujimori arrives to his trial in Lima.
And his daughter, Keiko, a congresswoman herself considering a run for the presidency in 2011, called for peaceful protests against what she said was an "unjust" verdict.
"They've won the battle but not the war," she told AFP.
More than 2,000 Fujimori supporters demonstrated after the result, to show their anger.
"If I see that judge, I swear by my mother I'll kill him," said one elderly woman taking part.
Human rights groups, though, hailed the result, calling it "historic" and a "milestone" in making wayward former heads of state accountable for their crimes.
Fujimori maintained his innocence throughout his 15-month trial, which counted as the longest and most expensive in Peru's history.
He claimed he was kept unaware of the actions of the death squad when it carried out the main crimes examined by the court: the murders of 15 people attending a Lima barbecue in 1991; and the abduction and murders of nine university students and their professor in the capital the following year.
But the court found he authorized and protected the army unit, known as La Colina.
It also determined that he ordered the 1992 kidnappings of a businessman and a journalist.
The crimes occurred during the darkest days of Peru's two-decade fight against leftist rebels that left 70,000 people dead or missing.
Fujimori's tough stand against the insurgents -- epitomized by his ordering commandos to storm the Japanese ambassador's residence in April 1997, ending a four-month hostage drama organized by Tupac Amaru guerrillas -- eventually crushed their movements.
But that legacy, while it won plaudits from many in Peru, left an uneasy conviction for many more that he had crossed the line into brutality -- a suspicion confirmed by Tuesday's verdict.
International observers said the three judges handling the case scrupulously observed due process, minimizing the chances of the appeals court overturning the ruling.
The chief judge in the case, Cesar San Martin, said Fujimori's crimes had been "proved beyond all reasonable doubt."
Fujimori sat without emotion, mostly writing in a pad, as the verdict was read out.
San Martin added: "These crimes are crimes of state. Murder and serious injury under the law constitute crimes against humanity."
Fujimori gave no response other than to say in a dry tone: "Your honor, I am taking my recourse to nullify (the verdict)."
Amnesty International, in a statement, called Fujimori's conviction "a crucial milestone in the global struggle against impunity."
"What this sentence implies is that the ends cannot justify the means," Michael Reed Hurtado from the International Center for Transitional Justice told AFP after attending the court verdict.
Fujimori is already serving a six-year sentence for an unrelated, separate trial in which he was found guilty of abuse of power. He faces two future trials on other corruption charges.
Fujimori resigned in 2000 by fax from a Tokyo hotel, where he had fled to escape a corruption scandal. Japan considered Fujimori to be a national by descent and refused to extradite him.
But Fujimori traveled in 2005 to Chile to restart his political career in Peru. He was arrested on arrival and eventually extradited to Peru in 2007.