CANNES, France, Nov 4, 2011 (AFP) - Leaders of the world's top economic powers Friday pushed Europe into acting to stop Italy following Greece into a debt crisis, but failed to come up with new funds to boost the IMF war chest.
While the G20 summit agreed in principle to increase IMF funding, the leaders did not settle on any precise figure or timetable, kicking the issue down the road. Financial markets were unimpressed.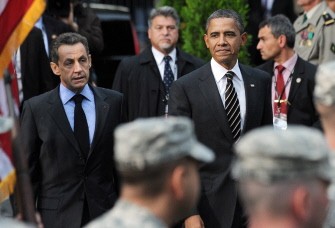 AFP - US President Barack Obama (R) and his French counterpart Nicolas Sarkozy review a honor guard during a ceremony at a World War I memorial at Cannes city hall on November 4, 2011 at the end of the G20 Summit
The risk premium on Italian bonds shot up to a new record and eurozone stock markets tumbled, with London's FTSE-100 index closing down 0.33 percent, Paris' CAC-40 down by 2.25 percent and the Frankfurt DAX by 2.72.
Nor was there any let-up in pressure on debt-laden Greece, whose ongoing political and economic crisis still hung heavily over Cannes' rain-lashed seafront summit venue, as an example of the threat facing Italy.
"Put simply, the world faces challenges that put our economic recovery at risk," said US President Barack Obama, reflecting concerns Europe has failed to get to grips with its sovereign debt debacle.
"With respect to Europe, we came to Cannes to discuss with our European friends how they will move forward and build upon the plan they agreed to last week to resolve this crisis."
Summit host President Nicolas Sarkozy of France put a determined face on to defend his year-long tenure as G20 chairman, and won warm words from Obama on an unprecedented joint television interview.
But critics were quick to point out that concrete progress on financial reform and costed promises of bail-out money were nowhere to be seen.
Amid pressure from the United States and major emerging nations, Italy accepted a humiliating deal to put its economy under international surveillance in a bid to restore market confidence.
Investors are jittery that Italy, also heavily indebted and with sluggish growth, could follow Greece and have sent Rome's borrowing costs to unsustainable levels in recent days.
Italian Prime Minister Silvio Berlusconi confirmed Italy had asked for the International Monetary Fund to monitor its economic reforms, but said that he had turned down an offer of financial aid as it "wasn't necessary".
Rome has recently adopted two austerity packages and has promised more measures, but markets have remained sceptical that they will succeed in eliminating the deficit by 2013 and boosting growth.
"The main problem we have, which has been clearly identified as much by the Italian authorities as by their partners, is a lack of credibility in the measures that have been announced," IMF managing director Christine Lagarde said.
European Commission chief Manuel Barroso hailed the move as "important, not only for the euro area but for global stability" and Germany's Chancellor Angela Merkel said: "We are very happy with results here."
A team from the Commission, which will also step up its monitoring of Italy, will travel to Rome next week, Barroso added.
In Athens, Prime Minister George Papandreou, who was summoned to Cannes for a dressing down by host President Nicolas Sarkozy and Merkel, faced a vote of confidence at the end of a parliamentary debate that began Friday.
Whatever the result, his eurozone partners have made it clear that either he or his successor will have to push through a bail-out deal tied to tight fiscal controls decided last week in Europe but now called into question.
EU leaders warned that Greece would not get the next planned eight-billion euro ($11 billion) aid installment from the IMF and EU unless the deal went through, and threatened to boot Athens out of the Union if it defaults.
Without the EU-IMF funds, Greece would run out of money within weeks, and the roller-coaster political situation and debt crisis in Athens have in turn boosted market pressure on the Italian budget.
The G20 leaders also pledged to ensure the International Monetary Fund, which has $400 billion left at its disposal, has sufficient funds to respond to possible crisis and tasked finance ministers to come up with options.
But they failed to pledge any precise sums, with EU president Hermann van Rompuy saying the details would be worked out by finance ministers later.
Observers said this marked a failure.
"It is fair to say the G20 summit with accompanying theatrics from Greece and Italy and the failure of the IMF and China to come to Europe's rescue has worsened the euro crisis," said Sony Kapoor of think-tank Re-Define.
With the eurozone debt crisis threatening to slash growth worldwide, G20 leaders pledged to coordinate their economic policies in an action plan on growth on jobs.
The world's top exporters -- led by China and Germany -- pledged to boost their domestic demand in order to give a shot in the arm to the global economy.
China also pledged to increase domestic consumption and "promote greater exchange rate flexibility to better reflect underlying economic fundamentals, and gradually reduce the pace of accumulation of foreign reserves."
Obama hailed what he said was China's decision to increase the flexibility of the renminbi (yuan), which has been a thorn in relations as trading partners say Beijing is keeping its currency artificially low to boost its exports.
"We welcome China's determination to increase the flexibility of the RMB," Obama told reporters after the summit. "This is something we've been calling for for some time. And it will be a critical step in boosting growth."
The leaders also approved measures to strengthen the international financial system by requiring the 29 banks judged too important to fail to increase their buffers to absorb potential losses.